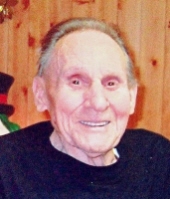 Obituary for Herbert E. "Herb" Franklin
"Grumpy"

Winnebago - Herbert E. "Herb" Franklin, 84, of Winnebago, formerly of Chicago, died Friday morning, September 28, 2007, in Neighbors Nursing Home in Byron, after a short illness. Born February 19, 1923, in Robinson, the son of Emery Earl and Ora (Sanders) Franklin. Herb was married to Mary Jane Layton for 56 years. He was a mechanic for OK Trucking in Chicago, for many years, retiring in 1984 and was a 50-year member of Auto Mechanics Local 701. Herb was an avid guitar collector and enjoyed tinkering on most anything.

Herb is lovingly survived by his son, Richard Gideon of Marinette, Wis.; grandchildren, Carolyn (William) Pruyne of Winnebago, Donald Gideon of Aurora, Angela (George) Lattimore of Chesapeake, Va., Kenneth (Simon) Gideon of Blackstone Queensland, Australia and Thomas (Shelly) Cook of Virginia Beach, Va. and great-grandchildren, Gage, Taylor, Megan, Paige, Haily, Katlyn, Sierra and Bryce.

Herb was predeceased by his wife, Mary Jane Franklin on May 7, 2007; son, Robert Eugene Gideon on May 26, 1969 and daughter, Carolyn Sue Gideon on July 23, 1952.

Funeral Information

Graveside service is at 10:00 a.m., Saturday, October 6, 2007, in Hutsonville Cemetery, with Pastor Bill Wilkinson, of First Christian Church in Hutsonville, officiating. At Herb's request, cremation rites will be accorded.