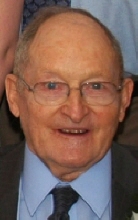 Obituary for Howard J. Herbert
Winnebago - Howard J. Herbert, 91, lifelong Winnebago resident, died Saturday, March 2, 2013, in Neighbors Rehabilitation Center, Byron. Born August 30, 1921, in West Point, Miss., the son of John and Edna (Blomberg) Herbert. Graduated from Winnebago High School in 1940. He was a World War II army veteran, serving in Europe with the 14th Field Artillery Observation Battalion attached to the 3rd Army and later with the 100th Infantry Division in the 9th Army. Howard married B. Irene Medelberg on June 7, 1947, in Marengo. He farmed for 15 years and was a letter carrier for the U.S. Postal Service for 21 years. Howard was an active member of Middle Creek Presbyterian Church and rang the church bell every Sunday for 30 years. He volunteered for Share and the Hunger Connection in Rockford and in 1999 received the Hunger Connection's Distinguished Individual Award for his volunteer service.

Howard is lovingly survived by his wife, Irene; sons, Carl (Gail) of Rochelle and, Dennis (Deb) Herbert of Winnebago; daughter, Pat (Robert) Yahnke of St. Paul, Minn., grandchildren, Ryan (Lexa) Herbert of Frederick, Md., Shawna (Bobby) Rushing of The Colony, Texas, Laura (David) Yanchick of Joliet, Corey (Stefanie) Herbert of Pecatonica, and Adam Herbert of Winnebago; ten great-grandchildren; brother, James (Mable) of Winnebago; and many nieces and nephews. He was predeceased in death by his parents and sister, Marie Herbert.

Funeral Information

Service is at 11:00 a.m., Friday, March 8, 2013, in Middle Creek Presbyterian Church, 12473 Montague Road, Winnebago, with visitation at 10:00 a.m. until service time; the Rev. Anita Stuart-Steva will officiate. Burial in Willwood Burial Park, Rockford. Visitation 4:00 p.m. to 7:00 p.m., Thursday, March 7, 2013, in Genandt Funeral Home, 602 N. Elida St., Winnebago.
Read More