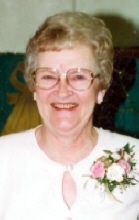 Obituary for Irene Herbert
Winnebago - B. Irene Herbert, 92, longtime Winnebago resident, died Monday, July 22, 2013, in Neighbors Rehabilitation Center, Byron. Born March 20, 1921, in Babcock, Wis., the daughter of James Albert and Agnes Marie (Johanson) Medelberg. Graduated from Marengo Community High School in 1939. Irene married Howard J. Herbert on June 7, 1947, in Marengo. Together they farmed for 15 years and she was a secretary for the Goodwill People to People Travel program in Winnebago. Irene was an active member of Middle Creek Presbyterian Church, Winnebago; having taught Sunday school up to the age of 70. She also was active in the American Field Service adult program and volunteered at the hot lunch program at McNair School, Winnebago. Irene enjoyed traveling and went on several international and US tours where she met people with whom she continued to correspond. She enjoyed letter writing, counted cross-stitching, working on crossword and jigsaw puzzles and dearly loved entertaining and having everyone over for dinner.

Irene is lovingly survived by her sons, Carl (Gail) of Rochelle and Dennis (Debra) Herbert of Winnebago; daughter, Pat (Robert) Yahnke of St. Paul, Minn.; grandchildren, Ryan (Lexa) Herbert of Frederick, Md., Shawna (Bobby) Rushing of Milwaukee, Wis., Laura (David) Yanchick of Joliet, Corey (Stefanie) Herbert of Pecatonica, and Adam Herbert of Winnebago; ten great-grandchildren; brother-in-law, James (Mable) Herbert of Winnebago; and many nieces and nephews. She was predeceased by her parents; husband, Howard, on March 2, 2013; sisters, Lilly Halley, Mary Andrew, and Lucy Polnow; infant brother, Einer Medelberg and brother, Ken Medelberg.

Funeral Information

Service is at 11:00 a.m., Monday, July 29, 2013, 2013, in Middle Creek Presbyterian Church, 12473 Montague Road, Winnebago, with visitation at 10:00 a.m. until service time; the Rev. Anita Stuart-Steva will officiate. Burial in Willwood Burial Park, Rockford. Visitation 6:00 p.m. to 8:00 p.m., Sunday, July 28, 2013, in Genandt Funeral Home, 602 N. Elida St., Winnebago.