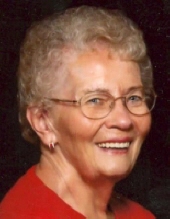 Obituary for Iris L. Stahl
Seward - Iris L. Stahl, 84, of Seward died Friday, May 25, 2012, in The Neighbors Rehabilitation Center, Byron, after a short illness. Born January 13, 1928, in Byron, the daughter of John Jack Henry and Louisa (Fysh) Watts. Graduated from Byron High School in 1946. Iris married Lloyd Stahl on February 28, 1948, in Middle Creek Presbyterian Church, Winnebago. Together, they farmed for many years. She was employed at Kysor-Westran, Byron, for 34 years. Iris was an active member of Seward Congregational Church. She enjoyed her breakfast club at the Harvest and the Stone Wall Cafe, and dearly loved caring for her family.

Iris is lovingly survived by her daughters, Pat (John) Matlock of Leaf River, Vicki (Doyle) Taylor of Riverview, Fla., and Judy Stahl-Salgado and Candy Paluzzi, both of Rockford; sons, Jim Stahl of Seward, Ed (Susan) Stahl of Byron and Carl (Lisa) Stahl of Winnebago; eight grandchildren; several great-grandchildren; and several nieces and nephews. Predeceased by her parents; husband, Lloyd, on January 29, 1999; grandson, Michael Stahl; great-granddaughter, Jessenia Ramirez; brothers, Fred, Jack, Richard, and Herb Watts; and sister, Annie Ryan.

Funeral Information

Graveside service at 11:00 a.m. Thursday, May 31, 2012, in Twelve Mile Grove Cemetery, Pecatonica, with the Rev. Ronald Farb, pastor of Seward Congregational Church, officiating. Cremation Rites were accorded.
Read More