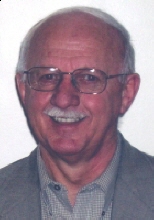 Obituary for James A. "Jim" Schneiderman
Beloved Brother & Uncle

German Valley - James A. "Jim" Schneiderman, 63, of German Valley, went to be with his loving Lord and Savior Friday, February 19, 2010, surrounded by his loving family and caring staff of Rockford Memorial Hospital. Born December 30, 1946, in Freeport, the son of Robert E. and Lenora F. "Tobi" (Ross) Schneiderman. Graduated from Forreston High School as a three-sport athlete in 1965 and received his bachelor of science degree in 1969 and a master's degree in natural science and geography in 1971 from Illinois State University. He then enlisted in U.S. Army Reserves for six years. After college Jim taught at Hinsdale South High School and assisted coaching basketball and tennis. One summer he taught English in Taiwan for the Peace Corps.

Career change time! Jim was hired by German-American State Bank in August of 1975 and became its president in 1980. Through his leadership, three branch banks were developed in Seward, Pecatonica, and Winnebago. He was one of the founding members of Foresight Financial Group in 1986 and served as its initial president and subsequently served on its board of directors. Jim was a 35-year employee of German-American State Bank serving as president from 1980 to 2007, and served as chairman of the board and chief financial officer since 2007. Serious respiratory illness entered Jim's life in early fall of 2007. He had extensive rehab and returned to work full-time by the end of May, 2008. Jim deeply cared for the people of the bank, customers and staff. His banking staff were (are) his extended family whom he loved.

God was first in Jim's life. He was an active member of German Valley Christian Reformed Church, having served as elder, deacon, a member of the Praise Team, Sunday school teacher, council member during the planning of the new Worship Center, vice president and clerk of its council.

The banking career gave Jim opportunities to serve his community, state and nation in many ways. He continued his passion for improving education as an original member of the Forrestville Valley Education Foundation Board having served for many years and on the Highland Community College Foundation Board for the past 16 years, serving as treasurer, co-chairman of their finance committee, and their executive committee. Other organizations include Jim serving on the Malcolm Eaton Enterprises Foundation Board and more recently served on the Malcolm Eaton Enterprises Board of directors and on their finance committee; president and director of the Stephenson County Senior Center Board for several years; director on the Northwestern Illinois Mutual Insurance Company board of directors; German Valley Village Board trustee for many years; charter member of the German Valley Lions Club, serving as past president, board member and current treasurer; member of the Northwest Bank of Rockford Board of Directors; and was actively involved with the Community Bankers Association of Illinois serving as Group 4 director from 1994-1997, Northern Illinois Regional vice chairman from 1997-2001, Education Committee chairman from 1997-1999, Communications Committee chairman from 1999-2000, Membership Committee chairman from 2000-2001, and served as the CBAI Illinois State director, national representative with the Independent Community Bankers Association from 2001-2006.

A philanthropist, Jim's influence was and will continue in the future. His gifts to many organizations in the surrounding communities have helped many people better their lives. He put other people and their needs way before his own.

One of the things Jim most enjoyed away from the bank was working on the farm. His banking vacations were spent on the farm working the fields.

His love for family lead Jim to follow and support the activities of all family members, especially his nephews and nieces, and he was the love of their lives as well. Jim is lovingly survived by his brothers, Randy (Wava) Schneiderman of German Valley and Fred (Peggy) Schneiderman of Forreston; sister, Cindi (Dave) Viel of Ridott; nieces and nephews, Matthew (Amy) Schneiderman, Kimberly (Dean) Fox and Nicholas (Andrea) Schneiderman, Jennifer (John) Heeren, Jaime Viel, and Jaci (Matt) Spielman, and Christopher (Jessica), Jonathan (Laurie) and Michael Schneiderman; great-nieces and nephews, Nathan, Brandon, Jaiden and Breelyn Schneiderman, Nicole, Mason, Gavin and Carter Fox, and Corinne and Mitchell Schneiderman; uncles, Ken (Leola) and Harry Schneiderman, both of Freeport; aunt, Cassie Ross of Egan; and 27 cousins.

He was predeceased by his mother, Tobi, on December 30, 1997; father, Bob, on April 20, 2001; and 14 aunts and uncles.

Funeral Information

Service is at 10:00 a.m., Tuesday, February 23, 2010, in Silver Creek Reformed Church, 326 S. Bunker Hill Rd., German Valley, with visitation from 9:00 a.m. until service time; the Rev. Jake Ritzema, pastor of Christian Reformed Church, will officiate. Burial in Christian Reformed Cemetery, German Valley. Visitation 4:00 p.m. to 9:00 p.m., Monday, February 22, 2010 in Genandt Funeral Home, 602 N. Elida St., WINNEBAGO.