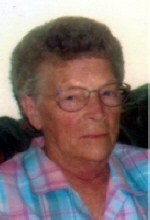 Obituary for Jane Marie Keilback
Loving Wife and Mother

Winnebago - Jane Marie Keilback, 82, of Winnebago, passed away with her loving family by her side, Thursday, July 25, 2013, in SwedishAmerican Hospital, after a lengthy illness. Born October 26, 1930, in Sterling, the daughter of Ernest and Edna (Eilers) Hoover. Graduated from East High School, Rockford in 1948. Jane married Jimmie D. Keilback on November 19, 1949, in Stillman Valley. Jane enjoyed gardening and was known for helping everyone. She dearly loved caring for her family and attending all of her kids, grandkids and great-grandkids activities.

Jane is lovingly survived by her husband of nearly 65 years, Jim; children, Paul (Lucille) Keilback, Terry (Marcee) Keilback, Randy (Karen) Keilback and Kelly (Ken) Sabien, all of Winnebago; grandchildren, John, Greg (Emily), Stephanie (Matt), Ryan, Kori, Alex, Katie and Konner; great-grandsons, R.J. and Ely; sister, Ruth Plock; brothers, Alan (Diana) and Bobby (Roberta) Hoover; and many nieces and nephews. She was predeceased by her parents, daughter-in-law, Dee Keilback; brother, Paul Hoover; and sister, Bernice Olson.

Jane's family would like to thank the staff of SwedishAmerican Hospital for their care and support.

Funeral Information

Private service is on Tuesday, July 30, 2013, in Genandt Funeral Home, 602 N. Elida St., Winnebago, with the Rev. Steve Shullanberger, pastor of First Presbyterian Church, Winnebago, officiating. Cremation rites will be accorded.