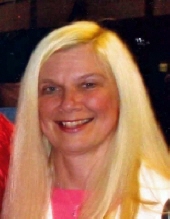 Obituary for Janice K. "Jan" Painter
Beloved Friend, Wife, Mom & Grandma

Byron - Janice K. "Jan" Painter, 57, of Byron, died Monday night, August 25, 2008, in her home, surrounded by her loving family, after a courageous battle with cancer. Born June 21, 1951, in Rockford, the daughter of Wilbur and Helene (Ippen) Hoffmann. Graduated from Winnebago High School in 1969. Jan married Ray Painter on July 15, 1995, in Faith Center. She was a legal assistant at Hinshaw Culbertson, in Rockford, for 17 years. An active member of Faith Center, together, Jan and Ray were altar counselors and cell group leaders. She enjoyed camping and motorcycling. Her passion was her family and she will be dearly missed.

Jan is lovingly survived by her husband, Ray Painter of Byron; sons, Les (Mindy) Meyer of Bloomington and David (Lindy) Meyer of Byron, stepsons, David Painter and Jonathan Painter, both of Rockford, and Aaron (Melinda) Painter of Fontana, Wis., grandchildren, Brayden and Zachary Meyer, Alison and Adler Painter, and Jonathan Painter; sister, Judy (Warren) Freedlund of Winnebago; brother, Jim (Pam) Hoffmann of Winnebago; and several nieces and nephews.

She was predeceased by her parents.

Funeral Information

Service is at 2:00 p.m., Friday, August 29, 2008, in, Faith Center, 4701 S. Main St., Rockford, with the Rev. Donald M. Lyon officiating. Burial in Middle Creek Cemetery, in Winnebago. Visitation 6:00 p.m. to 8:00 p.m., Thursday, August 28, 2008, in Faith Center.