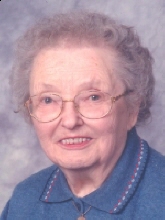 Obituary for Jean E. Rittmeyer
Winnebago - Jean E. Rittmeyer, 89, of Winnebago, died early Tuesday morning, November 16, 2010, in Rockford Memorial Hospital, after a short illness. Born November 27, 1920, in Rockford, the daughter of Frank and Celia (Gronberg) Carlson. She graduated from Winnebago High School in 1938 and attended Brown's Business College. Jean married Lester L. Rittmeyer on October 1, 1949, in Rockford. They farmed in the Lindenwood area until 1957 when they continued their farming near Winnebago. In addition, Jean was a secretary at Kysor in Byron, retiring in 1982. Lester and Jean retired from farming in 1984 and moved to Winnebago. Jean was an active member of First Presbyterian Church, its choir, Dorcus Circle and served on the emergency committee for funeral lunches for 20 years. She was also a member of the Fellowship Club and the Westfield Community Center. Jean enjoyed the activities of the Winnebago Senior Citizens group, which included the Meet Eat group in Pecatonica.

Jean is lovingly survived by her son, Tom (Molita) Rittmeyer of Decatur, Ind.; daughter, Carol Hogan of Roscoe; grandchildren, Renee (Jeffery) Magley, Karissa (Brett) Hulse, Rex (Sara) Patterson, and Benjamin, Meggie and Robert Hogan; and great-grandchildren, Jacob, Jordon and Brynn. She was predeceased by her husband, Lester Rittmeyer on November 19, 1996.

Funeral Information

Service is at 11:00 a.m., Saturday, November 20, 2010, in First Presbyterian Church, 208 W. Winnebago Street, Winnebago, with the Rev. Steve P. Shullanberger officiating. At Jean's request, cremation rites will be accorded. Interment of cremated remains in Winnebago Cemetery. Visitation 6:00 p.m. to 8:00 p.m., Friday, November 19, 2010, in Genandt Funeral Home, 602 N. Elida St., Winnebago.
Read More