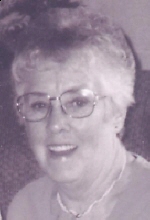 Obituary for Jean Frances Crawford
Loving Wife, Mom, Grandma, Sister & Aunt

Winnebago - Jean Frances Crawford, 68, of Winnebago, died Tuesday afternoon, June 8, 2010, in Rockford Memorial Hospital, surrounded by her loving family, after a short illness. Born July 24, 1941, in Rockford, the daughter of Daniel and Frances (Heeney) Smith. Graduated from Winnebago High School in 1959. Jean married Donald Crawford on November 30, 1963, in St. Mary's Catholic Church, Rockford. While raising her family, Jean was a Cub Scout leader. In addition she assisted with the Winnebago School's Totem Post newsletter and was active with the school's Fan Club. Jean was a member of St. Patrick's Catholic Church, Win-Bur-Sew Auxiliary, Winnebago Women's Club and volunteered at its monthly blood pressure clinics, and served on the Winnebago Cemetery Centennial Committee. She enjoyed camping and fishing, was an avid White Sox fan, and dearly loved all the family functions.

Jean is lovingly survived by her husband, Donald Crawford, Sr.; sons, Donald (Shirley) Crawford, Jr. and Daniel Crawford, all of Winnebago and Douglas (Marcie) Crawford of Loves Park; grandchildren, Nolan, Tayler, Delaney and Owen Crawford; stepgrandchildren, Lane (Beth) and Carlie Fraley; great-grandson Mason Crawford; brother, James (Joanne) Smith of Rockford; sisters, Ruth Kohlhorst of Rockford and Joan (Wayne) Asche of Winnebago; cherished nieces and nephews. She was predeceased by her parents; nephews, Randy, Timmy and Brad; and brother-in-law, James Kohlhorst.

Funeral Information

Service is at 10:00 a.m., Saturday, June 12, 2010, in Genandt Funeral Home, 602 N. Elida St., Winnebago, with the Rev. Joseph A. Warner, pastor of Bethany United Methodist Church, Rockford, officiating. Burial in Winnebago Cemetery. Visitation 5:00 p.m. to 8:00 p.m., Friday, June 11, 2010, in the funeral home.
Read More