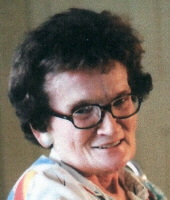 Obituary for Jean (Kappenman) DeGutis
Wife, mother, grandmother, great-grandmother, RN, stroke surviver

Winnebago - Jean (Kappenman) DeGutis, 81, of Winnebago, died Sunday morning, June 25, 2006, in her home, surrounded by her family, after a 19-year fight with complications from stroke. Born November 9, 1924, in Rockford, the daughter of Ernest and Katherine (Sample) Kappenman. She graduated from Winnebago High School in 1942 and Rockford Memorial School of Nursing, class of 1946. Jean married Ben DeGutis on July 19, 1947, in Winnebago. She was employed 40 years at Rockford Memorial Hospital, working on medical and rehabilitation units as a registered nurse. In addition, Jean was co-owner and bookkeeper for Ben's Sunoco Service, at Rural Prospect, in Rockford, for 25 years. She was an active member of First Presbyterian Church, in Winnebago, enjoying Dorcas circle and supper club. She was also a member of Rockford Memorial Hospital Alumni Assoc., Lady Landowners and Rockford Stroke Club. Jean was an avid Cub fan, Neil Diamond fan, reader, 500 and bridge player, besides a crossword puzzle solver. She was most proud to be a mother.

Jean is lovingly survived by her husband and devoted caregiver, Ben DeGutis of Winnebago, son, Stephen (Judith) DeGutis of Rockford, daughter, Linda (Norman) King of Winnebago, grandchildren, Craig, Mark, Carrie, Christopher, Ryan and Joel DeGutis, great-grandchildren, Alexis, Sierah, Kindred and Evan DeGutis, sister, Kathryn (Lewis) Mauk, sisters-in-law, Dorothy DeGutis, Ann Wroblewski and Berniece Glupczynski, numerous nieces and nephews and special friend, Ada Mae Welker.

She was predeceased by her parents and sister, Shirley Juhlin.

Thanks is given to numerous friends met over the past 19 years at Stroke Club and water exercises at the Center for Sight and Hearing, as well as employees of numerous family restaurants in Rockford and Byron, who helped make living with the side effects of stroke fun. Jean never lost her sense of humor. Special thanks also given to Dr. Dennis Norem and Dr. Dennis Corcoran for years of support, caring and quality health care, and to OSF Home Care nurse, Kathy Hudson, CNA's Dee Dee, Mary Lou and Zeta.

Funeral Information

Service at 11:00 a.m., Wednesday, June 28, 2006, in First Presbyterian Church, 208 W. Winnebago St, Winnebago, with the Rev. Steve P. Shullanberger officiating. Burial in Willwood Burial Park, in Rockford. Visitation 5:00 p.m. to 7:00 p.m. Tuesday, June 27, in Genandt Funeral Home, 602 N. Elida St., Winnebago.