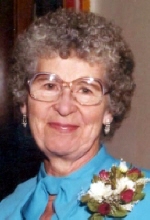 Obituary for Jeanette I. Hodgdon
Loved Mom and Grandma

Winnebago - Jeanette I. Hodgdon, 98, of Winnebago, died Wednesday, March 21, 2012, in Medina Nursing Center, Durand. Born on June 15, 1913, in Milwaukee, Wis., the daughter of William and Emma (Affeld) Zacharias. Graduated from Rockford High School in 1932. Jeanette married Paul A. Hodgdon on June 6, 1936, in Rockford. She was a member of First Presbyterian Church, Winnebago, Order of the Eastern Star over 50 years, the Winnebago Women's Club and a Brownie and Girl Scout leader for years. Jeanette loved sewing, including creating Barbie outfits for her granddaughter, knitting and crocheting.

Jeanette is lovingly survived by her daughter, Diane (Steve Knott) Leden of Pecatonica, daughter-in-law, Judy Hodgdon of Winnebago; grandchildren, Kelly (Dennis) Wilder of Albuquerque, N.M., Jeffrey (Linda Blanchard) Hodgdon, Douglas (Julie Paluzzi) Hodgdon, and Daniel (Amy) Hodgdon, all of Winnebago; granddaughter-in-law, Karin Leden of Loves Park; ten great-grandchildren; seven great-great-grandchildren; and special friend, Laura Short of New Milford. Predeceased by her husband, Paul, on June 22, 1987; son, Dennis Hodgdon on November 4, 1984; grandson, Stephen Leden, on September 7, 2007; and sister, Grace Lamont.

Funeral Information

Graveside service at 2:00 p.m. Saturday, March 24, 2012, in Willwood Burial Park, 7000 West State Street, Rockford, with the Rev. Steve Shullanberger, pastor of First Presbyterian Church, officiating.
Read More