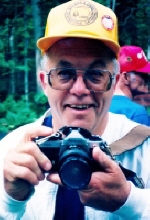 Obituary for Jerry Lee Sarver
Durand Jerry Lee Sarver, 78, of Durand, passed away Friday, September 15, 2017 at home. Born November 27, 1938 in Rockford, the son of John Henry and Elsie (Christen) Sarver who married in 1930. Elsie passed away in 1942. John then married Minnie Helen Christen in 1943 who then became Jerry's mother. Graduated from Durand High School, attended Rockford College and completed John Deere mechanical training. Jerry married Diana Kay Nelson on September 20, 1998 in Albany, WI. Jerry farmed and also owned Air Power Equipment in Rockford for 27 years, a company that repaired large commercial air compressors and generators. He was a member of the BMW motorcycle clubs in Rockford and Madison and enjoyed his wooded, farm property, photography, snowmobiling and fishing trips to Canada.

Jerry is survived by his wife, Diana Sarver of Durand; son Gregory Sarver of Durand; grandchildren, Dana (Ryan) Blakely, Charlie (Stacy) Sarver; great-grandson, Canaan Sarver. Bryce (Masha) Bowman, Brady Bowman, Travion Bowman, Tasha Bowman.

Jerry is predeceased by his parents; son, Ross Sarver.

Funeral Information

Funeral service 11:00 a.m. Friday, September 22, 2017, at Genandt Funeral Home, 602 N. Elida St., Winnebago with Pastor Randy Wakitsch Chaplain of JourneyCare Hospice in Rockford officiating. Visitation 5:00 p.m. to 8:00 p.m. Thursday, September 21, 2017, at the funeral home. Cremation rites to follow the funeral service.
Read More