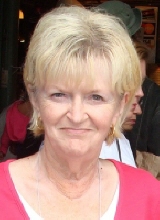 Obituary for Joanne A. Christin
Rockford - Joanne A. (Boyd) Christin, 64, of Rockford, passed away suddenly Tuesday, July 31, 2012, in her home. Born January 23, 1948, in Charleston, the daughter of Earl and Muriel (Culham) Boyd. She graduated from Charleston High School in 1966. In 1983, Joanne married the love of her life, Roger W. Christin, in Charleston, where he managed the Coles County Farm Bureau. They moved to Rockford in 1992, where Roger serves as Winnebago County Farm Bureau manager. Roger adopted her children, Connie (Joel Hougland) Hartley-Christin of Loves Park and Michael (Dana) Hartley of Charleston. Joanne was known for her art and craft work, especially her Christmas ornaments, which were distributed worldwide. She was self-employed with her craft business until she went to work for Informational Controls, in 1999, where she was noted for her detail and cheerful attitude. Most of all, she loved being a wife, mother, and grandmother to Maddie, Gage and Patrick Hartley. Joanne was an avid reader, and doted on her cats, Gizmo and Spook. She was a member of First Presbyterian Church, Winnebago.

Joanne is lovingly survived by her husband; daughter; son; grandchildren; sister, Beverly (Dr. Duane) Mc Davitt of Westfield, Ind.; and loving cousins, Debby (Ken) Cain, Cindy (Tim Gartzke) Culham, Jill (Bruce) Grindeland, Wayne Culham, and Janet (Tom) Stuckey. Predeceased by her parents.

Funeral Information

Service at 11:00 a.m. Monday, August 6, 2012, in Genandt Funeral Home, 602 N. Elida St., Winnebago, with the Rev. Steve Shullanberger officiating. Cremation rites will be accorded following the service. Visitation 4:00 p.m. to 7:00 p.m., Sunday, August 5, 2012, in the funeral home.