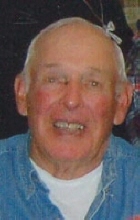 Obituary for John D. Weerda
Winnebago - John D. Weerda, 81, of Winnebago, died Wednesday, November 14, 2012, in Rockford Memorial Hospital, after a short illness. Born March 13, 1931, in Winnebago Township, the son of John H. and Edna (Schoknecht) Weerda. Graduated from Winnebago High School in 1949. John married Nancy (Crothers) MacNeal on April 14, 1983, in Rockford. He was a dairy farmer his whole life in the Winnebago area. In addition, he was a Wyffels Hybrids seed corn distributor for many years. John was a charter member of the Winnebago Lions Club, and a member of the Winnebago County Farm Bureau. He served as a Winnebago Township trustee for many years, was one of the founding committee members of the Winnebago 4th of July Festival and received the Village of Winnebago Honorable Service Award in 2003. John was an avid and loyal Winnebago High School sports fan. He enjoyed participating in parades with his team of oxen, Tom and Ben.

John is lovingly survived by his wife, Nancy Weerda; sons, Dean (Kathy) Gene (Heather) and Jeff (Heather) Weerda; and daughter, Penny Weerda, all of Winnebago; grandchildren, Josh (Corinne) Weerda, Kari (Chris) Schmidt, Abbie and Wyatt Yoemans, Jeff Johnson, Jolene Weerda, and Lilly Weerda; great-grandson, Jacob Weerda; stepchildren, Nancy (Jamie) Knox, David (Susan) MacNeal and Susan (Russ) Miller; stepgrandchildren, Laura (Mel) Payne, Christine (Luke) Olson, Stephen (Amanda) MacNeal, and Lauren Knox; stepgreat-grandchildren, Henry Payne, Oliver Olson, and Carson and Evelyn MacNeal; and numerous nieces and nephews. Predeceased by his parents; brothers, Stuart and Gerald Weerda; and sisters, Dorothy Appel and Erma Johnson.

Funeral Information

Private family service Saturday, November 17, 2012, in Genandt Funeral Home, 602 N. Elida St., Winnebago, the Rev. Joe Warner will officiate. Cremation rites were accorded. Visitation 5:00 p.m. to 8:00 p.m., Friday, November 16, 2012, in the funeral home.
Read More