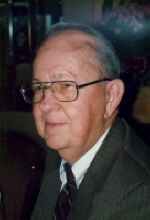 Obituary for John I. Newcomer
Beloved Father and Grandfather

Rockford - John I. Newcomer, 87, a Rockford resident since 1950, died Friday afternoon, November 4, 2011, in Lutheran Convalescent Home, Webster Groves, Mo. Born March 18, 1924, in Clinton, Iowa, the son of John I. and Esther (Burns) Newcomer. He attended grade school in Milledgeville, graduated from Polo High School in 1942, and served with the Ninth Army in Europe, during WWII, from 1943 to 1946. John married Helen M. Hanna on July 30, 1947 in Milledgeville. He graduated from the University of Illinois with a degree in Mechanical Engineering in 1950 and was a Registered Professional Engineer in Illinois. He was employed by Amerock Corp. as a design engineer for 26 years, retiring in 1986. Previously, John was employed by Atwoods, Burd Piston Ring Co., and W. F. John Barnes. An active member of the First Church of the Brethren, he served in many leadership capacities. John also served as co-chairman of the Amerock Retirees Association. His family meant everything to John and he will be greatly missed by them.

John is lovingly survived by his sons, Gary (Audrey) Newcomer of St. Louis, Mo. and David (Ann) Newcomer of Salina, Kansas; daughter-in-law, Susan Newcomer of Baroda, Mich.; eight grandchildren, Peter, Andrew and Benjamin (Ashlee) Newcomer of Baroda, John J. and Gary B. Newcomer of St. Louis, Nara Newcomer of Greenville, N.C., Russell (Diane) Newcomer of Omaha, Neb., and Jenna Newcomer of Ankara, Turkey; great-granddaughter, Lillee Newcomer of Baroda; and sister-in-law, Etholine Newcomer of Santa Barbara, Calif. He was predeceased by his parents; wife, Helen M. Newcomer, on September 1, 2003; son, John Newcomer on October 18, 2007; and brother, M. Burns Newcomer on June 14, 2005.

Funeral Information

Service is at 12:00 p.m., Saturday, November 12, 2011 in Genandt Funeral Home, 602 N. Elida St., Winnebago, Major Everett Jordan, of The Salvation Army, Rockford Temple Corps, will officiate. Burial at 9:00 a.m., in Bethel Cemetery, Milledgeville. Visitation 5:00 p.m. to 7:00 p.m. Friday, November 11, 2011, in the funeral home.
Read More