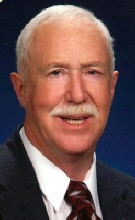 Obituary for Joseph Allen Mitchell
Grandpa Joe

Roscoe - Joseph Allen Mitchell, 66, of Roscoe, died Monday, October 14, 2013, in SwedishAmerican Hospital, Rockford. He was born January 15, 1947, in Willimantic, Conn., the son of George and Ruth (Mitchell) Salmons. He served in the U.S. Navy during the Vietnam War and was an active member of the VFW. Joe married Beverly Cox on February 14, 1989. He lived most of his life in Montgomery County, Md., where he drove a school bus part-time, and was much loved by the students and their parents. Joe retired from Safeway Grocery after more than 30 years. He coached women's basketball when young, and played on men's basketball teams until he retired. Joe enjoyed participating in his YMCA's exercise class and watching all levels of basketball, including women's basketball. His favorite hobbies included fishing, painting, playing poker, and reading biographies/autobiographies.

Joe is lovingly survived by his wife, Beverly; brothers, George (Marian) Salmons and Richard (Alice) Salmons; nieces, Regina Salmons and Anne Bigelow; nephew, George Salmons; his beloved step-daughters, Ann (Brent) Baumer, Susan Earles and Marissa (Daniel) Gray; and six grandchildren. He was predeceased by his parents.

Funeral Information

Service is at 11:00 a.m., Friday, October 18, 2013, in Burritt Community Church, 8378 Trask Bridge Road, Rockford, with visitation from 10:00 a.m. until service time; the Rev. Brian Channel of Durand United Methodist Church, will officiate. Cremation rites were accorded. Burial of cremated remains in North Burritt Cemetery, Winnebago.