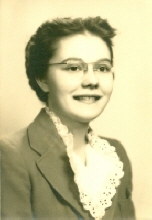 Obituary for Josephine C. Elsen
Wheaton - Josephine "Aunt Joie" Caryce Elsen, 89, of Wheaton, died Monday, February 2, 2015, in Prairie View Assisted Living, Winnebago. Born February 1, 1926, in Rockford, the daughter of Dr. Matthias and Olive E. (Straw) Elsen, Josephine graduated from Winnebago High School in 1942, received her bachelor's degree from Wheaton College in 1946, and continued her education, graduating from Northwestern University, Evanston, with a master's degree in Music History in 1948 and a PhD. in 1967. Her doctoral dissertation was entitled "The Instrumental Works of Peter Ritter (1763-1846)". She taught at Tabor College, Hillsboro, Kansas, at Oakland City College, (now Oakland City University) Oakland City, Indiana, and then at Wheaton College, Wheaton, Illinois. In addition, a talented musician, Josephine taught piano in her home for many years and played piano and organ in several churches. A nature lover at heart, she enjoyed feeding the birds and caring for and adopting stray cats, even naming them. Josephine was an avid gardener and dearly loved all the family gatherings with her brother, sister-in-law, cousin and nieces and nephews. Her wry sense of humor will be greatly missed.

Josephine is lovingly survived by her brother, Dr. John (Virginia) Elsen of Three Lakes, Wisconsin; eight nieces and nephews; 40 great-nieces and great-nephews; and numerous great-great-nieces and great-great-nephews. She was predeceased by her parents; nephews, John Elsen III of Baltimore, Maryland, and David Elsen of Saint Augustine, Florida; and cousin, Ruth Straw of Dixon, Illinois.

Funeral Information

Visitation 2:00 p.m. to 4:00 p.m., Sunday, February 8, 2015, in Genandt Funeral Home, 602 N. Elida St., Winnebago. Service is at 11:00 a.m., Monday, February 16, 2015, in the funeral home, with Andrew Elsen officiating. Burial in Willwood Burial Park, Rockford. Flowers are greatly appreciated.
Read More