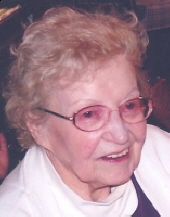 Obituary for Josephine E. "Jo" Baker
Beloved Mom, Grandma & Great-grandma

Rockford - Josephine E. "Jo" Baker, 92, of Rockford, died Sunday morning, October 3, 2010, in Provina Cor Mariae Center, Rockford. Born April 8, 1918, in Rockford, the daughter of Homer and Edith (Johnson) Smith. Graduated from Winnebago High School in 1936 and attended Illinois Wesleyan College, Bloomington. Josephine married Robert B. Baker on December 29, 1945, in Middle Creek Presbyterian Church. Jo was a secretary at AAA office in Rockford and then at Singer Zone Center, Rockford. She was an active member of Middle Creek Presbyterian Church for 75 years, the Westfield Community Center and the Winnebago County Farm Bureau. Jo enjoyed quilting, crocheting and reading.

Josephine is lovingly survived by her daughters, Joan (Frank) Jones of Byron, Nancy (Mike) Light of Lacoma, Mo. and Susan (Bill) Butterworth of Rockton; grandsons, Charles (Stacey) Jones of Byron, Scott (Jessica) Jones of Rockford, Robert (Heather) Light of Rolla, Mo., Brian (Karen) Light of Seymour, Mo. and Mark Butterworth of Rockton; great-grandchildren, Victor and Elizabeth Light, Autumn, Ashley and Zoe Light, and Olivia and Ethan Jones; sister-in-law, Jean Meissen of Winnebago; and many nieces and nephews. She was predeceased by her parents, husband, on November 20, 2001; and brother, Harold Smith.

Funeral Information

Service is at 11:00 a.m., Wednesday, October 6, 2010, in Middle Creek Presbyterian Church, 12473 Montague Road, Winnebago, with the Rev. Anita Stuart-Steva officiating. Burial in Middle Creek Cemetery, Winnebago. Visitation 5:00 p.m. to 7:00 p.m., Tuesday, October 5, 2010, in Genandt Funeral Home, 602 N. Elida St., Winnebago.