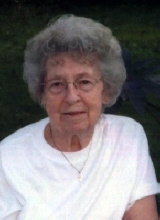 Obituary for Josephine Sis Burkhart
Loving Mom, Grandma & Great-grandma

Seward - Josephine "Sis" Burkhart, 88, of Seward, died Wednesday, June 15, 2011, in her home, from a broken heart. Born May 29, 1923, in Shellrock, Iowa, the daughter of Harm and Ella (Hutting) Viel. She graduated from Seward High School. Sis married the love of her life, Harold W. Burkhart, on January 14, 1948, in Leaf River. Together they owned and operated their farming and trucking firm, known as Burk's Custom Farming Trucking, retiring in 1993. In her early years, Sis was employed at J.I. Case, in Rockford. She attended Seward Congregational Church, helped the Winnebago County Fair Tractor Pull Association for many years, and prepared her signature potato salad, pies and other food for the Alan Spratt basketball tournaments. Sis dearly loved spending time with her grandchildren and great-grandchildren; attending all their special events. She enjoyed riding motorcycles and attending tractor pulls. Many hours were spent embroidering, quilting, creating personalized scrap book photo albums for her children and grandchildren, and making special afghans for her loved ones.

Sis is lovingly survived by her children, Bev (Bryan) Allen, Jacki (Mike) Cunningham, and Scott (Lois) Burkhart, all of Seward; grandchildren, Angi Allen, Carmen (Mike) Allen Shank, Nathan (Danielle) Allen, Ashley (Brennan) Spielman, Heather (Nathan) Palmer, Nicholus Cunningham (his special friend, Adriane Themas), and Morgan and Brennan Burkhart; great-grandchildren, Dawson, Whitney and Dillon Shank, Burkal Allen, and Madalyn, Katlyn, and Kalley Palmer; sister, Rosy Wunschel, of Winnebago; brother-in-law, Arthur (Shirley) Burkhart of Winnebago; and several nieces and nephews. She was predeceased by her parents; and husband, Harold, on September 3, 2010.

Funeral Information

Service is at 10:00 a.m., Saturday, June 18, 2011, in Seward Congregational Church, with the Rev. Ronald C. Farb officiating. Burial in Twelve Mile Grove Cemetery, Pecatonica. Visitation 5:00 p.m. to 8:00 p.m., Friday, June 17, 2011 in Genandt Funeral Home, 602 N. Elida St., Winnebago.
Read More