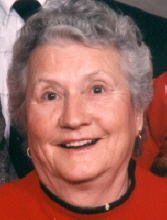 Obituary for Joyce C. Palm
Grammie

Winnebago - Joyce C. Palm, 88, of Winnebago, died Thursday morning, March 30, 2006, in Neighbors Nursing Home, in Byron. Born December 26, 1917 in Shickley, Neb., the daughter of Louis P. and Sylvia B. (Pratt) Broderson. Graduated from Shickley High School in 1935. Joyce married Laverne H. Palm on August 25, 1937 in Shickley. They moved to Winnebago in 1965, coming from New Milford. Together, they farmed with Jerry and Peggy. Joyce was a member of Middle Creek Presbyterian Church in Winnebago. She enjoyed gardening, knitting, making her famous cinnamon rolls, and playing cards with her friends.

Joyce is lovingly survived by her sons, Gerald (Peggy) Palm of Winnebago and Gordon (Carol) Palm of St. Mary, Ga., grandsons, Marty (Sue) Palm of Winnebago, Barry (Lisa) Palm of Winnebago and Erik (Jeannine) Palm of Jacksonville, Fla., granddaughters, Melody (Tom) Kuczynski of Winnebago and Traci (Angelo) Patacca of Jacksonville, great-grandchildren, Dustin, Nick and Brandon Palm of Winnebago, Layne, Jessica and Heather Palm of Winnebago, Kody and Kolton Kuczynski of Winnebago, Connor and Brendan Patacca of Jacksonville and Eden Palm of Jacksonville, brother, Howard (Kate) Broderson of LaMarque, Tex., niece, Sherri (Michael) Jones of Papillion, Neb., and special friend, Jodell Brown of Winnebago.

Joyce was predeceased by her husband, Laverne Palm on November 30, 1982, infant son, Michael Palm in June, 1946, and sisters, Thelma Craig and Norma (Sherril) Harpoole.

Funeral Information

Service is at 10:00 a.m., Tuesday, April 4, 2006, in Genandt Funeral Home, 602 N. Elida St., Winnebago, with the Rev. Anita Stuart-Steva, pastor of Middle Creek Presbyterian Church, officiating. Burial in Middle Creek Cemetery, in Winnebago. Visitation 5:00 p.m. to 8:00 p.m., Monday, April 3, 2006, in the funeral home.