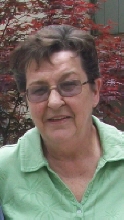 Obituary for Judith A. Mulcahey
Proud Mom & Grandma

Rockford - Judith A. Mulcahey, 73, of Rockford, died Wednesday, September 5, 2012, in her home following a courageous battle with cancer. Born November 19, 1938, in Rockford, the daughter of Paul and Gladys (Melton) Zies. Graduated from West High School in 1956. Judy married James F. Mulcahey on August 18, 1957, in Rockford. Recently employed by Northwest Community Center, Martin Automatic and Loves Park Tax Service. Member of the Rockford Moose Club. Enjoyed ceramics, gardening, reading, solving crossword puzzles, along with watching FOX News, and dearly loved spending time with her grandchildren.

Judy is lovingly survived by her children, Patsy (Danny) Boyd, Greg Mulcahey, Laurie Goettsch, Beth Higgins and Susie (Mark) Bileto; 16 grandchildren; 16 great-grandchildren and a great-great-grandson; sisters, Pauline (Rich) King and Lillian (Ed) Souders; several nieces and nephews; and faithful companion, Teddy. Predeceased by her parents; husband; and son-in-law, Ken Goettsch.

Funeral Information

Gathering of family and friends in Judy's honor from 5:00 p.m. to 8:00 p.m., Monday, September 10, 2012, in Harvest Bible Chapel, 5501 Windsor Road, Loves Park. Cremation rites were accorded.