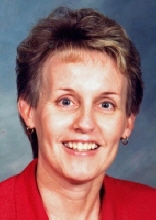 Obituary for Judith Anne "Judy" Shelton
Loving Mother and Big Gram

Byron - Judith Anne "Judy" Shelton, 61, of Byron, died Saturday morning, September 1, 2007. in Pinecrest Manor, Mount Morris, after a courageous battle with Alzheimer's disease. She was born July 4, 1946, in Rockford, the daughter of Herbert J. and Rose A. (Guler) Meyer, Sr. Graduated from Auburn High School in 1963 and attended Northern Illinois University from 1963 to 1965. Judy married Biven J. Skogsberg on August 26, 1967 in Rockford. She was a homemaker when her girls were young, and then was a medical secretary at various offices, was the church secretary at United Church of Byron for seven years, and then later an interior decorator consultant. Judy was an active member of United Church of Byron, and enjoyed playing on the church softball team. Her favorite pastime was attending the sporting activities of her family, including her grandchildren. She also enjoyed the annual outings to Lake Ripley, Wis., bowling, sewing and reading. Judy's family expresses their thanks to Linda Skogsberg for her weekly visits and to the staff of Pinecrest and of Ogle County Hospice for their care and support.

Judy is lovingly survived by her daughters, Christie (James) Getzelman and Jennifer (Brent) Alberts; grandchildren, Matthew, Mallorie and Nathan Getzelman and Zakary and Alexa Alberts, all of Byron; mother, Rose Meyer, of Rockford; brother, Herbert (Carlene) Meyer, Jr. of Rockford; mother-in-law, Ruby Skogsberg of Shell Knob, Mo.; brothers-in-law, Brian (Linda) Skogsberg of Byron and Gordy Skogsberg of Springfield, Mo.; nephews, Chad and Brent (Carrie) Skogsberg; nieces, Jessi Skogsberg and Lindy (Kevin) Mense and special friends, Judy Wirth, Carol Lynch and Penny Gentzel.

Judy was predeceased by her father, husband, Biven Skogsberg, on July 28, 1978 and father-in-law, Sig Skogsberg.

Funeral Information

Service is at 11:00 a.m., Tuesday, September 4, 2007 in United Church of Byron, 701 W. Second St., Byron, with the Rev. Marie Paterik officiating. Burial in Byron Cemetery, in Byron. Visitation 4:00 p.m. to 6:00 p.m., Monday, September 3, 2007, in Genandt Funeral Home 602 N. Elida St., Winnebago.
Read More