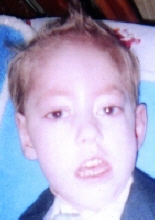 Obituary for Jullian James Seyler
Our Little Angel

Rockford - Jullian James Seyler, 2, of Rockford, left this earth to be with his mother Friday night, March 10, 2006, in SwedishAmerican Hospital. Born November 6, 2003, in Rockford, the son of John and Felicia (Lowder) Seyler.

Jullian was cherished and loved and will be greatly missed by his surviving family including his father, John Seyler of Rockford, grandparents, Ronald (Pamela) Lowder of Rockford, Charlotte Whitmire of Leaf River and Dennis and Brenda Seyler of Rockford, great-grandparents, Ronald and Frances Lowder of Davis Junction, Fred Whitmire of Rockford, Jodell Brown of Winnebago and Janice Seyler of Winnebago, great-great-grandmother, Bertha Colmone of Rockford, aunts, Ashley Gissler of Rockford, Amber Lowder of Davis Junction, Ali Lowder of Davis Junction, Clarrissa (Caleb) Davis of Rockford and Jody (Nick) Vecchione of Rockford, uncles, Nathan Whitmire of Leaf River, Barry Holligan of Rockford and Dillon Vecchione of Rockford, and many great-aunts and uncles, and cousins.

Jullian was predeceased by his mother, Felicia Seyler on February 1, 2006, great-grandmother, Sue Whitmire and great-grandfathers, Samuel Colmone, Darrell Brown, Louis Seyler.

Funeral Information

Private Service on Wednesday, March 15, 2006, in Genandt Funeral Home, 602 N. Elida St., Winnebago, with the Rev. Steve P. Shullanberger, pastor of First Presbyterian Church in Winnebago, officiating. Burial in Winnebago Cemetery in Winnebago.
Read More