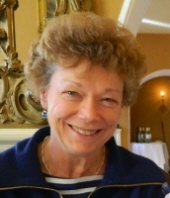 Obituary for Karen L. Daubs
Seward - Karen Lynn Daubs, 65, of Seward, passed away Sunday, October 11, 2015, in her home, following a courageous and graceful four year battle with cancer. Born July 6, 1950, in Chicago, the daughter of Richard A. and Lois Jean (Netrefa) Szarz. Karen married Maurice Daubs on August 21, 1971, in Roselle.

Karen is lovingly survived by her husband, Maurice of Seward; sons, Stephen Daubs of Washington and James Daubs of Houston, TX; father, Richard Szarz; sister, Joan (Karlton) Bolthouse; niece, Sarah (John) Vernon, nephews, Arend and Spencer Bolthouse; great-nieces, Laurel, Elise, Clara and Adeline; sisters-in-law, Carol (Phil) Wisely-Puterbaugh and Sheryl (Jeff) Hinkle; their children, Shawn and Todd Wisely, Jeffery (Ashley) Hinkle and Carrie (Perry) Griffith; great-niece, Leslie. Paternal extended family includes uncles, Leonard (Mary Jane) Szarzynski and Roman (Linda) Kotowycz; aunts, Phyllis and Rita Szarzynski; maternal aunt, Mildred Friess; and many cousins and second cousins. She was predeceased by her mother.

Karen was a woman who loved life and bringing happiness to her family and friends. She loved her parents and honored them her entire life. She was a devoted wife and loving mother, always putting the needs of others above her own. Karen was a member of Seward Congregational Church for over 35 years. She loved teaching Sunday school and spending time with the younger members of the church community. She loved cooking, sewing, shopping and traveling. Whether it was something from the oven or stitched in canvas, the result was always an expression of love for whom it was intended. Early in her marriage, she had the opportunity to live in Germany and travel all over Europe. Even after she was diagnosed with cancer, she and Maury made many trips, including Hawaii and Ireland. Karen had an infectious smile, an enchanting laugh, and an undying passion for loving and helping family and friends. Even though her life was cut short by cancer, her years were full of love and life. She will be greatly missed and always remembered.

Funeral Information

Memorial service at 11:00 a.m. Saturday, October 24, 2015, in Seward Congregational Church, Seward, with Pastor David Bordy officiating. Cremation rites have been accorded. Visitation 4:00 p.m. to 7:00 p.m., Friday, October 23, 2015, in the church.