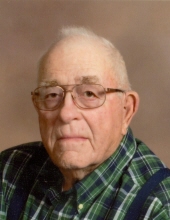 Obituary for Karl Alvin Shelden Heeren
Karl Alvin Shelden Heeren, 89, of Winnebago, passed away suddenly and peacefully in his home on Wednesday, November 13, 2019. He was born on March 30, 1930 to Alvin Roy and Alice Eileen (Shelden) Heeren of German Valley, IL. Karl grew up on a farm in Winnebago, IL with his older sister and younger brother. Karl began farming as a child, helping his father pick corn by hand and throwing it into the horse-drawn wagon. He graduated from Winnebago High School in 1948. In 1955, he married former wife Mary Agnes Wolfe and they began raising their young family. In 1956, Karl purchased the family farm. The Heeren Farm was a busy place. In addition to farming and livestock, he operated Karl Heeren Trucking, Inc. and was a licensed grain dealer. For decades, the phone rang with local farmers wanting to know the price of grain. In 1977, he married Louise (Gilliland) Daub.

He often remarked on the great progress of technology in his life. Karl took pride in his farm and received a centennial family farm designation by the State of Illinois. Karl loved animals and believed you could tell a great deal about a person's character by the way he treated his animals. Karl was your quintessential farmer of that generation: frugal, practical, stoic, and hardworking. The fall of 2019 was Karl's 71st harvest.

Karl loved a good conversation. He could remember facts and dates from yesterday to very early childhood. He loved road trips and tremendously enjoyed the conversations that were had while driving. He enjoyed reading, family history, playing card games--particularly euchre, and was a surprisingly good pool player. Karl and Louise traveled all across the United States, Europe, the Caribbean, New Zealand, and Australia. His trips abroad often included a visit to the local farms and ranches. Karl loved automobiles (Ford/Lincoln), tractors (John Deere--always green) and semi tractors (Ford until Ford stopped producing them). Karl loved the land and its history. If you rode in the combine or on a tractor with him, you would hear stories about the changes of time, the evolution of the climate, and how it shaped the farm land of Northern Illinois.

He was a strong supporter of agribusinesses. He proudly served on the Board of Directors at the Bank of Pecatonica (and its various mergers) from 1985 until 1996. As the bank merged with larger banks, he missed working with the Ag branch of financing, resigned, and eventually joined the local First National Bank's Board of Directors. Knowing the ins and outs of agribusiness, he was pleased to advocate on behalf of his community. He served on the Soil and Water Conservation District and Farm Credit Boards. Karl served on the local school board for twelve years, four years as president. In 1974, Karl was awarded the Farm Conservation Family of the Year. He was also a long-time supporter of the Winnebago County 4-H Fair; and in 2019, was honored by the Fair Board as "Fair Person of the Year" for his lifelong contributions to the fair, agricultural community, and Winnebago County.

Karl loved and was proud of his combined family. He took pleasure in attending his children and grandchildren's sporting, school, and music events.

Karl was preceded in death by his parents; his wife of 33 years, Louise Heeren; and his infant daughter, Ann Elizabeth Heeren. He was blessed by a large family and is survived by his daughter Janet Klinger (Phyllis Hogberg), son Jeffery Heeren (Demaree), daughter Shirley Heslop (Dave), daughter Leslie Heeren (Roger Bybee), daughter Kathryn Heeren-Ellis (Craig Ellis), and daughter Sarah Oliai (Bob); his grandchildren: Jonathan Klinger, Julie Klinger, John Heeren, Katherine McNamara, Mark Heslop, Lisa Smith, Michael Heslop, Mathew Heslop, Nicklas Heslop, Lucas Bybee, Laura Bybee, Cole Ellis, Chandler Ellis, Evan Oliai and Sophia Oliai; his great-grandchildren; his step-children: Bruce Daub (Jamie), Gary Daub (Debbie), Teresa Crull, David Daub, and Kristine Daub; his step-grandchildren: Shannon and Jason Daub, David, Daniel and Dylan Daub, Austin, Kylie and Brennan Crull, Katie and Wesley Daub, Mitchell and Makenzie Heinen; his step-great-grandchildren; his brother David Heeren and his sister Dorothea Bonavia.

His family would like to thank his many long-time friends who brought a sense of community and companionship to him. He truly enjoyed all of you.

In lieu of flowers a memorial will be established for 4-H, the Seward Historical Society, and the Mayo Clinic.

Funeral service 10:00 a.m. Tuesday, November 19, 2019, at the First Presbyterian Church of Winnebago, 208 W. Winnebago St., Winnebago with Reverend Steve Shullanberger officiating. Interment at Winnebago Cemetery near Winnebago. Visitation 3:00 p.m. to 7:00 p.m., Monday, November 18, 2019, at Genandt Funeral Home, 602 N. Elida St., Winnebago. For an online obituary and tributes go to www.genandtfuneralhome.com.
Read More
Previous Events
Visitation
Genandt Funeral Home
602 N. Elida St.
Winnebago, IL 61088
Funeral Service
First Presbyterian Church of Winnebago
208 W. Winnebago St.
Winnebago, IL 61088
Cemetery Details
Location
Winnebago Cemetery
Westfield Rd.
Winnebago, IL 61088
Memorial Contribution
Seward Historical Society