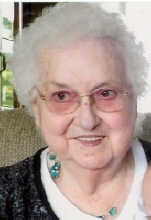 Obituary for Kathryn E. Viel
German Valley - Kathryn E. Viel, 82, of German Valley, died Tuesday, August 12, 2014, in Manor Court, Freeport, after a short illness. Born on May 4, 1932, in Freeport, the daughter of Floyd and Hattie (Fransen) Penticoff. Attended Freeport High School. Kathryn married Fred H. "Fritz" Viel on December 8, 1949, in Freeport. Together they operated Fritz's business, Viel's Garage, primarily fixing tractors and farm equipment. An avid gardener, Kathryn was always growing flowers. She dearly loved nurturing her children, grandchildren and great-grandchildren, along with caring for residents at the nursing home.

Kathryn is lovingly survived by her children, David (Cindy) Viel of Ridott, Darlene Janssen of Freeport, and Debra (Ron Kirby) Bruce of Freeport; grandchildren, Jennifer (Ben) Peters of Rockford, Jaime (Jay) Patch of Rockford, Jaci (Matt) Spielman of Pecatonica, Erik (Kristen Zellweger) Janssen of Freeport, Stacy (Jason) Klenz of Rockford, and William and Allyssa Bruce, both of Freeport; great-grandchildren, Katelyn Janssen, Brady Klenz, Jenna Spielman and Caden Peters; brother-in-law, Henry (Janice) Viel of Pecatonica; sisters-in-law, Grace Klenz of Freeport and Maude Viel of Pecatonica; and many nieces and nephews. She was predeceased by her husband, Fred, on October 1, 2008; son-in-law, Gene Janssen; two brothers and three sisters.

Funeral Information

Service is at 11:00 a.m., Monday, August 18, 2014, in Grace Valley Christian Reformed Church, 8210 E. Edwardsville Rd., German Valley, with visitation from 10:00 a.m. until service time; the Rev. Erin Stout will officiate. Burial in Christian Reformed Cemetery, in German Valley. Visitation also from 5:00 p.m. to 7:00 p.m., Sunday, August 17, 2014, in Genandt Funeral Home, 602 N. Elida St., Winnebago.