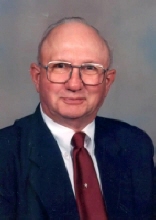 Obituary for Kenneth A. Klenz
Freeport - Kenneth A. Klenz, 84, of Freeport, passed away Monday, January 14, 2013, in Stephenson Nursing Center, Freeport, surrounded by his loving family, after battling Parkinsons for many years. Born May 14, 1928, in Freeport, the son of Rudolph and Phoebe (Ditsworth) Klenz. Attended schools in Pearl City and the Ridott area. Ken married Grace Viel on December 20, 1956, in Ridott. He farmed for many years and then worked at Kelley Springfield Tire retiring after 23 years. Upon retirement, Ken worked for a number of years for several auctioneers in the area. He was an active member of German Valley United Methodist Church. Ken enjoyed many things, including the local fairs, never missed an opportunity to attend the events. He also never missed a chance to attend a tractor or horse pull. Ken loved going to flea markets, swap meets and sales, finding treasures that he loved sharing with his family.

Ken is lovingly survived by his wife, Grace; children, Dixie McLain of Freeport; Kenneth (Geneva) Klenz of Machesney Park, Judith (David) Frautschy of Rockton, Nancy (James) Rose of Maryville, Tenn., and Mark (Theresa) Klenz of Rock City; grandchildren; David (Bethany) McLain, Dawn Johnsey, Lisa (Josh) Krebs, Kristin (Mark) Wulfekuhle, Heather Klenz, Jason (Stacy) Klenz, Sarah (special friend, Dennis Dirksen) Meyers, Miranda (David) Schulenberg, Nicole (Mark) Sivertsen, Dallas (special friend, Amanda Cunningham) Shippy, Mitchell Frautschy, Katie (special friend, Jacob Rice) Frautschy, Jesse Rose, Kevin Klenz, Jennifer (Tyler) Vails, and Carl (Camryn) Klenz; 21 great-grandchildren; brothers and sisters, Marjorie (Wilbur) Klapp of Freeport, Betty Borgmann of Forreston, Velda (Donald) Baal of Pecatonica, Darlene (Irving) Greenfield of Ridott, Vern of Dixon, Allen of Freeport, Phyllis (Allan) Ackerman of Freeport, and Gerald of Wis.; and many nieces and nephews. Predeceased by his parents; son-in-law, Walter McLain; brother-in-law, Ernest Borgmann and sisters-in-law, Patsy Klenz and Marlene Klenz.

Ken's family wishes to thank the staff of Stephenson Nursing Center for their care and support.

Funeral Information

Service at 11:00 a.m. Thursday, January 17, 2013, in German Valley United Methodist Church, 7 Main St., German Valley, with visitation from 9:00 a.m. until service time; the Rev. David Decker will officiate. Burial in Christian Reformed Cemetery, German Valley.
Read More