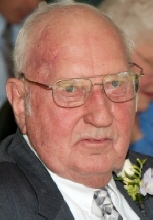 Obituary for Kenneth W. Diehl
Loving Husband, Father, Grandfather & Great-grandfather

Winnebago - Kenneth W. Diehl, 89, of Winnebago, went to be with the Lord Sunday, February 6, 2011, in Swedish American Hospital after a brief illness. Born June 3, 1921, in Leaf River, the son of Melvin and Florence (Price) Diehl. He graduated from Leaf River High School in 1939, and served in the Marine Corps, Pacific Ocean Theatre, during WWII. Ken married Agnes Bridgeland on December 14, 1946, in Middle Creek Presbyterian Church. Ken was a farmer in the Seward area his entire life. He was a woodworker, a craftsman, and loved using his hands; he could fix almost anything. He enjoyed fishing, hunting, traveling, reading, and restoring farm tractors and engines. Ken was an active member of Rockford First Assembly Church, and loved serving in his church as an usher and a greeter. In his community he served on the Winnebago County Farm Bureau and was a former Winnebago School District board member.

Ken dearly loved spending time with his family and will be greatly missed by them, including his wife, Agnes Diehl of Winnebago; daughter, Susan Miller, of Whiting, N.J.; sons, John (Lari) Diehl and Wayne (Judy) Diehl, both of Winnebago; grandchildren, Robert, David and Steven Miller, Jamie Bell, Lindsey Dykstra, Kelly Miller, Bryan Diehl, Bethany Petillo, Rebekah Diehl and Joel and Jessica Kloster; great-grandchildren, Hunter and Aiden Bell and Blake Dykstra. He was predeceased by his sister, Eleanor Aukes; son-in-law, Robert Miller; daughter-in-law, Lori Diehl, and grandson Matthew John Diehl.

Ken's legacy is his love of God, family, and his country. For these things our family will be forever grateful to have had this legacy handed down to us.

Funeral Information

Service time is at 12:00 p.m., Friday, February 11, 2011, in the auditorium at First Assembly Church, 5950 Spring Creek Road, Rockford, with visitation from 10:30 a.m. until service time. Pastors Bob Taylor and Walter Pope will officiate. Burial in Middle Creek Cemetery, Winnebago.