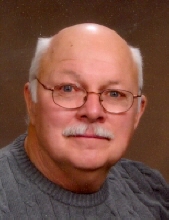 Obituary for Kenny Tallman
Winnebago - Harry Kenneth "Kenny" Tallman, 70, of Winnebago died Monday, August 22, 2016, at home following a sudden illness. Born June 19, 1946 in Freeport, IL, the son of Harry Tallman and Virginia Yeager Tallman/Law. He graduated from Lanark High School in 1964 and served in the United States Army during the Viet Nam war from February 2, 1966 to February 1, 1968. Kenny married Karen Lynn Behrens on September 19, 1969 in Lanark. He worked as a brick mason for the Brick Layers and Allied Craftsman IL Local Union No. 6 for 40 years. Kenny enjoyed spending time with his family, being on his farm, "especially the view from his silo", the outdoors, music and singing.

Kenny is lovingly survived by his wife, Karen Tallman of Winnebago; son, Nile (Gioia) Tallman of Algonquin; daughter, Denise (Joe) DiSilvio of Sleepy Hollow; six grandchildren, Kaya and Shyla Tallman, Mallorie, Tyler, Coley and Grace DiSilvio;
three sisters, Ann Tallman of West Richland, WA, Nancy (Tom) Cline of Polo, and Jennie (Tom) Fitzpatrick of Manson, WA; one brother, Dean (Michaelle) Law of Lanark; several nieces and nephews.

Predeceased by both parents and one brother, Denny Tallman.

Funeral Information

Service at 11:00 a.m. Monday, August 29, 2016, in Genandt Funeral Home, 602 N. Elida St., Winnebago, the Rev. Larry A. Moody, pastor of Burritt Community Church officiating. Visitation 2:00 p.m. to 5:00 p.m., Sunday, August 28, 2016 in the funeral home. Cremation to follow the funeral service.