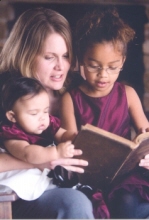 Obituary for Kimberly Beth Manus Alexander
My candle burns at both ends
It will not last the night
But ah my foes, and oh my friends
It gives a wondrous light

Kim Alexander passed away peacefully on the morning of January 7, 2010, in her home, in German Valley, after a prolonged bout with cancer.
She was born March 4, 1978, to Richard "Rick" E. and Beth L. (Groharing) Manus, in Freeport, and attended Forreston High School where she was named the Journal Standard's Volleyball Player of the Year in 1996 - still holding the kill record at Forreston with 89.5%.
Kim received an athletic scholarship and continued her volleyball career at the Savannah College of Art Design where she graduated in 2000 with a BFA in graphic design and a 4.0 GPA.
While at Savannah, she was named the team MVP in both 1997 and 1999, and holds the current records for Most Kill Attempts in a three-game match (45 vs. Thomas More, 10/31/99), and Most Digs in a five-game match (45 vs. Augusta State, 11/2/96).
But Kim always said that her greatest accomplishment in college was meeting her husband, Thomas E. Alexander Jr. They were married on June 16, 2001, in Faith United Methodist Church, Freeport, and have two daughters, Ashleigh Elizabeth, age 6, and Ericka Lynn, age 2.
Professionally, Kim was recruited as the founding lead artist of the new weekly newspaper, Village Voices, in 2001. In rapid fashion, her talents lead to Voices winning countless design and advertising awards, culminating in the highest honor bestowed upon a newspaper by the Illinois Press Association - the Sam Zito Award of Excellence. In addition, Kim personally received the highest honor for her graphic design portfolios in two of the last three years.
With a never-ending workload, she still managed to keep active in the sport she loved - assisting her father as a coach for the Excess Club Volleyball teams, and also being the assistant varsity coach at Forreston in 2004.

Kim is lovingly survived by her husband; daughters; parents; brother, Randy (Jodi) Manus; nieces, Baylee and Emma Manus; grandparents, George and Mary Manus and Mary Groharing; parents-in-law, Thomas and Lolinda Alexander; sisters-in-law, Kimberly (Chester) Brown and Sherria Alexander; their children, Lauren and Kaitlyn Brown and Matthew Landcaster; and several aunts, uncles and cousins. She was predeceased by her grandfather, Paul Groharing and aunt, Paula Groharing Desseyn.

Funeral Information

Service is at 1:00 p.m., Saturday, January 16, 2010, in Forreston High School Gymnasium, Forreston, with visitation from 9:00 a.m. to 12:00 p.m.; the Rev. Jake Ritzema, pastor of Christian Reformed Church, German Valley, will officiate. Private burial in Christian Reformed Cemetery, German Valley.
Read More