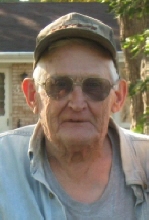 Obituary for Kimbert F. Schwartz
Winnebago - Kimbert "Kim" F. Schwartz, 79, of Winnebago, died Saturday, October 27, 2012, in his home, surrounded by loved ones. Born October 16, 1933, in Pecatonica, the son of Bruno and Olga (Meyers) Schwartz. Graduated from Pecatonica High School in 1955. Served in the U.S. Marine Corps from August 7, 1953 to August 6, 1956, during the Korean War. Kim married Doris C. Cook on August 31, 1957, in Second Congregational Church, Rockford. A pipe fitter by trade, he retired from Barker Rockford Co. in 1999. Kim then kept busy and truly loved being a car wash attendant at the Winnebago Super Wash, retiring in 2011. He was an active member of the Winnebago Masonic Lodge 745 AF AM, Freeport Scottish Rites, Ritualistic Divan of the Tebala Shriners and Pecatonica Post 8416 Veterans of Foreign Wars. Kim enjoyed the Winnebago McDonalds's breakfast club and playing cards, specifically cribbage. He dearly loved watching his grandchildren's activities and sporting events.

Kim is lovingly survived by his daughters, Pam Schnurr of Caledonia and Stacy (Lynn) Carver of Winnebago; grandchildren, Stephanie (Tom) Snyder of Pecatonica, Kim (Brian) Fish of Byron, and Kaleb Schwartz and Abbey Carver, both of Winnebago; and great-grandchildren, Alex and Michelle Snyder and Brianna Fish; brother, Jon (Marilyn) Schwartz of Polo; sister, Audrey Kelly of Springfield, Mo.; and numerous nieces and nephews. He was predeceased by his parents; wife, Doris, on June 27, 2011; son, Bruce Kim Schwartz on December 23, 1984; and sisters, LuAnn Desmond and Molly Tarbert.

Funeral Information

Service at 12:00 p.m. Thursday, November 1, 2012, in Genandt Funeral Home, 602 N. Elida St., Winnebago, with Masonic Rites at 9:30 a.m., and visitation from 10:00 a.m. until service time; the Rev. Amy Poust, pastor of Pecatonica United Methodist Church, will officiate. Burial in Pecatonica Cemetery.
Read More