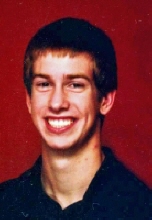 Obituary for Kyle D. Mitchell
Perfect and special in every way!

Winnebago - Kyle D. Mitchell, 20, of Winnebago, died Monday afternoon, July 21, 2008, with his dad, Mike, in his arms, resulting from a tragic farming accident. Born January 7, 1988, in Rockford, the son of Michael and Janice (Kendell) Mitchell. He graduated as class valedictorian from Winnebago High School in 2006 and was going to be a junior at the University of Illinois, in Urbana-Champaign, majoring in agricultural engineering. Growing up on the family dairy farm instilled the values of farm life in Kyle: hard work, discipline and responsibility. He applied these traits to all his interests, including soccer, music and socializing. Kyle was a member of the Junior Holstein Association, InterVarsity Christian Fellowship, Rock Valley College Student Leaders, Phi Theta Kappa, a member of the First Presbyterian Church, serving as youth elder, Seward Determination 4-H Club, captain of the Winnebago High School soccer team, a member of the Academic All-State Soccer Team, the Winnebago High School Band and the Mitchell Family Band.

Kyle is lovingly survived by his mom, Jan Mitchell; brothers, John and Aaron Mitchell, all of Winnebago; fiance, Kimberly Pershing of Machesney Park; grandmothers, Judy Mitchell of Winnebago and Patricia Kendell of Rockford; and several aunts, uncles and cousins.

Kyle was predeceased by his grandfathers, Doug Mitchell and Richard Kendell.

Funeral Information

Service is at 12:00 p.m., Saturday, July 26, 2008, in Winnebago High School Gymnasium, 200 E. McNair Road, Winnebago, with the Rev. Steve P. Shullanberger, pastor of First Presbyterian Church in Winnebago, officiating. Visitation 2:00 p.m. to 4:00 p.m. and 5:00 p.m. to 8:00 p.m. Friday, July 25, 2008 in the Winnebago High School Gymnasium. Burial in Winnebago Cemetery.