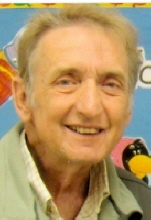 Obituary for LaRae A. Klinger
Husband, Father, Grandfather

Pecatonica - LaRae A. Klinger, 69, of Pecatonica, passed into eternal life Thursday, December 11, 2014, in his home, surrounded by his loving family. Born October 6, 1945, in Freeport, the son of Ernest A. and Luella (Ruter) Klinger. Graduated from Pecatonica High School in 1963. LaRae married Barbara Doyle on June 12, 1971 in the Cathedral of St. Peter, Rockford. He was a steward of the land and his animals on the family dairy farm, retiring from the dairy portion in March, 2009, always striving to improve his operation. LaRae attended Seward Congregational Church and was a member of the Holstein Association USA, Illinois Holstein Association, and Boone-Winnebago County Holstein Club. He was active with the Winnebago County 4-H, and served as a board member of Midwest Dairyman's Co. and Winnebago County Farm Bureau. God was first, his family was not far behind, and breeding a better Holstein was his passion. LaRae set the standard for fighting adversity without complaint, always keeping his faith and hope, teaching his family and people close to him by example. He was a liver recipient in January, 2002, as the result of the passing of Arnie Schmitz, of Norwalk, Wis. Arnie's wife, Kay, and their six adult children have remained close to our family since that time. Please consider becoming an organ donor.

LaRae is lovingly survived by his wife, Barbara; children, Robb (Patti) Klinger of Winnebago, Darcie (Ben) Dolan of Durand and Ginnie (Eric) Cunningham of Winnebago; grandchildren, Jack and Lilli Klinger, Victoria, Brady and Matthew Dolan, and Olivia and David Cunningham; sisters, Gayle Foss of Loves Park and Shirley (Gordon) Bosley of Morrison; special nephew, Michael Foss of Loves Park; and several other nieces and nephews. He was predeceased by his parents; father-in-law and mother-in-law, Frederick and Catharine Doyle; and brother-in-law, Terry Foss.

LaRae's family thanks the staff of UW Madison Unit B4/6, Doctors Musat, Said, Rice, Agarwal, Lucey, Benawal, Andes, and Smith along with Clarion Gilbertson, LaRae's transplant coordinator for the past ten years, and Heartland Hospice for their loving care and compassion.

Funeral Information

Service is at 10:00 a.m., Tuesday, December 16, 2014, in Seward Congregational Church, with Pastor Tim Spickler of New Life Bible Church, Winnebago, officiating. Burial in North Burritt Cemetery, Winnebago. Visitation 4:00 p.m. to 7:00 p.m., Monday, December 15, 2014, in Genandt Funeral Home, 602 N. Elida St., Winnebago.
Read More