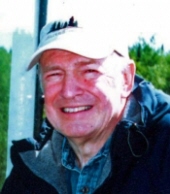 Obituary for Lee Eldon Fulrath
Beloved Husband, Generous and Patient Father and Grandfather

Winnebago - After a brief and gallant fight against Lymphoma, Lee Eldon Fulrath, 72, of Winnebago, Illinois, peacefully went to be with his Lord, Tuesday, November 11, 2008, surrounded by loved ones, in his home on the family farm.

Lee was born in April, 1936, to Glenn and Jessie (Dauphin) Fulrath, of Savanna, Illinois. He was especially fond of his older brother Edward Fulrath, who predeceased him in childhood, and his surviving younger brother, Colin Fulrath, with whom he loved to spar growing up. Lee attended Center Hill Grade School and Savanna High School in Savanna, Illinois, graduating in 1957. With the guidance and encouragement of his high school football coach, John Shimp, he matriculated at Carthage College in Carthage, Illinois, the following fall, graduating in 1961 with a bachelor's degree in Secondary Education.

His beloved wife, Susan Mae (Leonard) Fulrath, with whom he shared 46 years of mystery, romance, and adventure, also attended Carthage College, where they enjoyed their first formal date in September 1958. Lee and Susan were married, June 17, 1962, at First Presbyterian Church of Winnebago, Illinois, the week after she graduated with a degree in Elementary Education.

Shortly before they were married, Lee voluntarily enlisted in the service of his country with the United States Air Force, and completed a four-year tour. He was discharged honorably with the rank of Airman 1st Class, but not before he and his bride traveled extensively together, courtesy of Uncle Sam, including postings in the southwestern and northeastern United States, and most notably Great Britain and western Europe. The British friends Lee and Susan made while living in London remained close throughout their ensuing lives, and they exchanged Christmas gifts for nearly thirty years.

Deciding to set up house in Susan's childhood family farmstead just west of Winnebago, Lee and Susan lived and loved a traditional rural Midwestern lifestyle that afforded their fourth-generation children and fifth-generation grandchildren the many benefits of homegrown food, fresh country air, wide open spaces, and an unapologetic folksy sensibility that has already been passed on proudly for over 150 years.

A member of the United Auto Workers Union #1268, Lee was employed by Chrysler Corporation, working in the Belvidere Assembly Plant for 33 years, before taking retirement in 1999. He loved elegant American automobile design, especially the classic cars of the 1950s and 1960s, before the demands of global mass production and corporate profiteering compromised a great tradition of creating beautiful vehicles that reflected the spirit of the open road.

Lee was a congregant of North Grove Christian Church in Egan, Illinois, regularly attending services with his wife Sue. He developed a close friendship with the itinerant minister, Rev. Carlton Easley, and his family, enjoying many regular social activities together, including church picnics, basement dinners, and neighborhood outreach. His personal faith in Jesus Christ, to whom his elder brother Edward gave witness, was an affirmed source of strength and peace as he negotiated the hills and valleys of his life. After surviving two near miss lighting strikes as a younger man, he often exclaimed that "the Man Upstairs was looking out for me", and that "God must have His reasons."

Lee loved the outdoors and loved to travel, which is how and where he spent the majority of his free time, whether it was squirrel hunting in the backwoods, coordinating a family road trip to the Calgary Stampede, or stealing Sue away for a 40th anniversary excursion to Watertown Lakes, Alberta, Canada, and the Prince of Whales Hotel. Closer to home, Lee and Sue made organic gardening the centerpiece of their healthy lifestyle, at one point tending over an acre of produce, and often enjoyed touring around the neighborhood on their bicycle-built-for-two.

Lee is survived by his wife, Susan (Leonard) Fulrath; his brother Colin Fulrath; his sons Andrew Fulrath and Aaron Fulrath; and several grandchildren. He was predeceased by his elder brother, Edward Fulrath.

Funeral Information

Service is at 11:00 a.m., Saturday, November 15, 2008, in North Grove Christian Church, 11702 N. Mt. Morris Road, Egan, with the Rev. Randy Newton, pastor of Leaf River Baptist Church, officiating. Burial in Winnebago Cemetery, in Winnebago. Visitation 4:00 p.m. to 7:00 p.m., Friday, November 14, 2008, in Genandt Funeral Home, 602 N. Elida St., Winnebago.
Read More