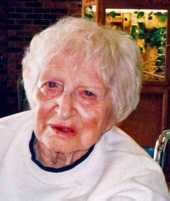 Obituary for Lenore T. Fisher
Winnebago - Lenore T. Fisher, 92, of Winnebago, died Friday morning, March 20, 2009, in Neighbors Nursing Home, Byron. Born February 19, 1917, in Waubay, SD, the daughter of Pearle and Flora A. (Drake) Bridge. Lenore married Dale Fisher on January 28, 1939, in Fort Pierre, SD. They moved to Rockford in January of 1941. She worked at Shanhouse Garment Factory in Rockford, graduated from beauty school and was a beautician at Bergner's and then was a sales clerk at Sears for several years. Lenore enjoyed crocheting and crafting, having made many angels.

Lenore is survived by her granddaughters, Brittney and Sara Fisher; great-granddaughter, Ebien Marie Fisher; daughter-in-law, Dawn Pullian, several nieces and nephews; and dear friend, Ruth Dunbar.

She was predeceased by her husband, Dale Fisher on December 24, 1973; daughter, Carol Fisher on July 21, 1968; sons, Bradley Fisher on June 21, 1975 and Mark Fisher on March 7, 2002; four sisters and three brothers.

Funeral Information

Memorial Service is at 10:00 a.m., Saturday, March 28, 2009, in New Life Bible Church, Route 20 at Hoisington Road, Winnebago, with Pastor Dan Kennedy officiating. At Lenore's request, her body was donated to Northern Illinois University.