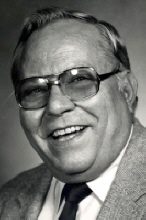 Obituary for Lester W. Davis Jr.
Beloved Dad, Grandpa, Great-grandpa & Great-great-grandpa

Winnebago - Lester W. Davis, Jr., 82, of Winnebago, died Saturday night, August 11, 2007, surrounded by his family, in his home, after a lengthy illness. He was born on December 12, 1924, in Indianapolis, Ind., the son of Lester W. Davis, Sr. and Geraldine (Gregory) Davis Sitz. He graduated from Arcola High School, Arcola in 1942, and attended Eastern Illinois University, in Charleston. Lester married Virginia M. Smith on February 2, 1943, in Tuscola. He served in the 103rd Airborne in the South Pacific, during WWII. Lester began his career as a news announcer for various radio/TV stations, including WREX TV, in Rockford. He was a travel coordinator for Dwight D. Eisenhower People-To-People travel organization, retiring in 1987, after 30 years. He was a member of First Presbyterian Church in Winnebago, the Winnebago Lions and Winnebago Masonic Lodge 745 AF AM. Lester loved spending evenings with his family, was an avid sports fan, especially the Dolphins, Bears, and Cubs, and was known to be a man of many stories and jokes. He will be deeply missed by his family and friends.

Les is lovingly survived by his daughters, Debbie (David) Babbitt and Shirley Casey; grandchildren, Kim (Frank) Bachman, Mike (Kellie) Casey, Cari (Terry) Gettle, and Tim and Andy Babbitt; great-grandchildren, Kori Bachman, Stephen and Amanda Casey and Hadyn, Ryley and Troy Gettle, all of Winnebago; great-great-grandchild, Aryn Grace Bachman of Rockford; niece, Sandy (Marc) Bright of Machesney Park and special pet, Lacy.

Les was predeceased by his parents, wife, Ginny Davis on September 18, 1996; son-in-law, Roger Casey; great-grandsons, Aaron and D.J. Bachman and brother, Charles Davis.

Lester's family extends a special thanks to Northern Illinois Hospice for their kind support and to Jeannie for her excellent care during his illness.

Funeral Information

Service is at 11:00 a.m., Wednesday, August 15, 2007, in Genandt Funeral Home, 602 N. Elida St., Winnebago, with the Rev. Steve P. Shullanberger, pastor of First Presbyterian Church, in Winnebago, officiating. Burial in Winnebago Cemetery, in Winnebago. Visitation 5:00 p.m. to 7:00 p.m., Tuesday, August 14, 2007, in the funeral home with Masonic Rites at 7:00 p.m.