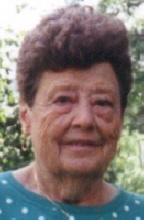 Obituary for Lillian C. Garnhart
Seward - Lillian C. Garnhart, longtime resident of German Valley-Seward area, died Wednesday evening, April 19, 2006, in FHN Memorial Hospital, in Freeport. She was born September 20, 1914, in Byron, the daughter of Nels and Elvira (Anderson) Anderberg. She graduated from Leaf River High School. Lillian married Virl C. Garnhart on September 25, 1937, at the Anderberg family farm, in German Valley. She clerked in a Rockford dry goods store before starting her family. Lillian supplemented the farming income by selling eggs and seasonal produce weekly to Hilander Grocery in Rockford. She enjoyed gardening, antiquing, auctions and helping her children and grandchildren show cattle at the fairs. Lillian and Virl loved taking Sunday drives and dining out for their Sunday dinners.

Lillian is lovingly survived by her sons, Randy (Linda) Garnhart of Belvidere and Rick (Linda) Garnhart of German Valley, grandchildren, Tad (Lisa) Garnhart of Stillman Valley, Tara Schultz of Rockford and Andrew and Christina Garnhart of German Valley, great-grandchildren, Grace and Ross Garnhart of Stillman Valley and several nieces and one nephew.

Lillian was predeceased by her husband, Virl Garnhart, on August 3, 2005, brothers, Clayton, Adolph and Glenn Anderberg and sisters, Hazel Miller, Gunhild Kruse, Evelyn Moline and Ruth Anderberg.

Funeral Information

Service is at 3:00 p.m. Saturday, April 22, 2006, in Silver Creek Reformed Church, 326 S. Bunker Hill Road, German Valley, with visitation from 2:00 p.m. until service time; the Rev. Randall P. Knoll will officiate. Burial in Twelve Mile Grove Cemetery, in Pecatonica.