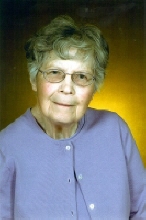 Obituary for Lillian Wilhelmina Nyman
Pecatonica Lillian Wilhelmina Nyman, 97, of Pecatonica passed away Wednesday, March 15, 2017 in the Prairie View Assisted Living Community in Winnebago. Born February 22, 1920 in her grandmothers house in Pecatonica the daughter of Reuben and Sophia (Anderson) Lofgren. She graduated from Durand High School in 1937. Lillian married Leland Maurice Nyman on February 11, 1951 at the First Lutheran Church in Pecatonica. Lillian was a bookkeeper at Whitney Metal Tool in Rockford and then farmed with her husband east of Davis. She enjoyed baking, sewing, gardening and making special Swedish treats for the Swedish Bazaar.

A special thank you to all of the Prairie View Assisted Living Community staff for the loving care they have shown Lillian over the past eight years.

Lillian is lovingly survived by cousins; nephews; nieces.

Lillian is predeceased by her husband Leland Nyman on March 1, 2009; a brother; two sisters.

Funeral Information

Funeral service 11:00 a.m. Tuesday, March 21, 2017 with a visitation starting at 10:00 a.m. in the First Lutheran Church, E. 6th St. and Taylor St., Pecatonica with Rev. Nord L. Swanstrom officiating. Interment in Twelve Mile Grove Cemetery near Pecatonica. Arrangements by Genandt Funeral Home, 602 N. Elida St., Winnebago.
Read More