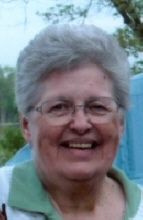 Obituary for Lois I. Heeren
Winnebago - Lois I. Heeren, 75, of Winnebago, died Tuesday, January 5, 2016, in Wesley Willows, Rockford, following a lengthy illness. Born December 13, 1940, in Rockford, the daughter of Harry F. and Dorothy (Price) Goodman. Graduated from Hononegah High School in 1959. Lois married David S. Heeren on June 18, 1960, in First Presbyterian Church, Winnebago. She was a school bus driver for the Winnebago School District for 36 years, retiring in 2004. In addition, Lois did the bookkeeping first for her father at Ridott Grain and Fertilizer, and then for her husband's trucking business. She was a member of First Presbyterian Church. With David, Lois enjoyed square dancing and pot-luck gatherings with friends. She also enjoyed reading, crafting, playing the organ, and bowling, and belonged to several card clubs. Lois dearly loved spending time with her grandsons.

Lois is lovingly survived by her husband of 55 years, David; children, Ray (Cathy) Heeren of Winnebago and Kay (Tim) Sullivan of Waukesha, WI; grandsons, Jeremy and Jordan Heeren, and Taylor, Brenner and Brady Sullivan; brothers, Roger (Vicki) Goodman of Roscoe and Brian (Windy) Goodman of Muscoda, WI; and several nieces and nephews. She was predeceased by her parents, Harry (Ada) Goodman and Dorothy Goodman; and brother, Harry Duane Goodman.

Funeral Information

Private Service on Saturday, January 9, 2016, in Genandt Funeral Home, 602 N. Elida St., Winnebago, with the Rev. Daren Dietmeier, pastor of Trinity Presbyterian Church, Aledo, officiating. Burial in Winnebago Cemetery. Visitation 4:00 p.m. to 7:00 p.m., Friday, January 8, 2016, in the funeral home.
Read More