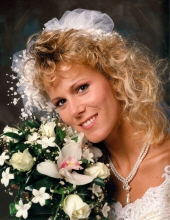 Obituary for Lois Lorene Burkhart
Winnebago – Lois Lorene Burkhart, 51, of Winnebago, passed away Thursday, May 16, 2019 at UW Health University Hospital in Madison, WI. She was born September 19, 1967 in Rockford the daughter of Robert and Linda Mae (Miner) Maddock. She graduated from Harlem High School in 1985 where she was a cheerleader, played softball and was the prom and home coming queen. Lois married Scott Harold Burkhart on August 29, 1992 at the Court Street United Methodist Church in Rockford. She went to airline travel school in Pittsburgh, PA. She worked at Title Underwriters Agency in Rockford and then was the bookkeeper for the family business, Burk's Custom Farming and Trucking in Winnebago. She loved the game of softball playing on many teams and was known for her "rocket arm". Lois enjoyed being outside at the farm taking care of her yard, flowers, mowing and being by her pool. The love of Lois's life is her two children, Morgan and Brennan who she supported in all of their endeavors.

Lois had a heart of gold, beautiful smile and a special wink that will always be remembered.

Lois is survived by her husband, Scott Burkhart of Winnebago; daughter, Morgan Burkhart of Winnebago; son, Brennan Burkhart of Winnebago; mother, Linda Maddock; brothers, Bob (Gayla) Maddock, Jim (Dodi) Maddock; sisters, Kay (Jim) Satre, Gayle (Marlin) Peterson, Kim (Rick) Glawe; several nephews and nieces; best friend, Jill Meuris.

Lois is predeceased by her father Robert Maddock.

A celebration of life will be held at a later time on the Burkhart Farm. Cremation rites accorded. Arrangements by Genandt Funeral Home, 602 N. Elida St., Winnebago. For an online obituary and tributes go to www.genandtfuneralhome.com.