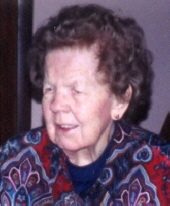 Obituary for Lois M. Craven
Leaf River - Lois M. Craven, 93, of Leaf River, died Saturday evening, December 2, 2006, in Rockford Memorial Hospital. Born February 9, 1913, in Byron, the daughter of Glenn and Luella (Snyder) Kilmer. She attended Fairview Country School and Byron High School. Lois married Ralph W. Craven on February 14, 1934, in Mount Carroll. She was a member of Leaf River Grange and was involved with the Lady's Aide of Myrtle Methodist Church. Lois loved making cookies for her grandchildren and enjoyed playing cards with family and friends.

Lois is lovingly survived by her sons, Ron (Alice) Craven and Clifford (Myra) Craven, both of Leaf River and Lamont (Barbara) Craven of Middletown, Del., twin daughters, Roberta (Harlan) Rittmeyer of Winnebago and Rowena (Jim) Kloster of Baileyville, grandchildren, Pam (Jim) Keast, Tim (Kerry) Craven, Thom (Kristy) Craven, Patti (Robb) Klinger, Melinda Charbonneau, Kim (Tom) Wakeling, Matthew Rittmeyer, David (Tanya) Kloster, Amy (Mike) Bauer and Curtis Kloster, great-grandchildren, Will and Sam Keast, Sylas and Eli Craven, Isaac Charbonneau, Amanda, Joshua and Wayne Wakeling and Kaylee and Breanna Kloster, brother-in-law, Harold Coil of Texas and numerous nieces and nephews.

Lois was predeceased by her parents, her husband, Ralph Craven on August 16, 1994, five brothers and one sister.

Funeral Information

Service is at 11:00 a.m., Wednesday, December 6, 2006, in Genandt Funeral Home, 602 N. Elida St., Winnebago, with visitation from 10:00 a.m., until service time; the Rev. Ronald C. Farb, pastor of Seward Congregational Church will officiate. Burial in Lightsville Cemetery, in Leaf River.
Read More