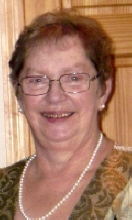 Obituary for Loretta B. Meyer
Cherished Wife, Mom, Grandma and Friend

Winnebago - Loretta B. Meyer, 74, of Winnebago, died Monday, April 15, 2013, in Rockford Memorial Hospital, following a sudden illness. Born November 23, 1938, in Leaf River, the daughter of Henry and Vera (Reber) Buskohl. Graduated from Leaf River High School in 1956. Loretta married Richard Meyer on October 10, 1958 in Leaf River. She was a purchasing assistant at Baxter International, Deerfield, and also at Condell Medical Center in Libertyville. Loretta was an active member of First Presbyterian Church of Winnebago. She enjoyed attending concerts and theater, gardening in her flower beds, playing bridge, and searching for the unique antique.

Loretta is lovingly survived by her husband, Richard; children, Galen R. (Carol) Meyer of Pennington, N.J., Teresa (Tom) Wilson of Grand Rapids, Mich., and Kristine Meyer of Langhorne, Penn.; and grandchildren, Lauren, Kennan and Lane Meyer. Predeceased by her parents; sister, Ellen Buskohl; stepmother, Tena Buskohl; and half-sister, Margie Garrett.

Funeral Information

Service is at 11:00 a.m., Saturday, April 20, 2013, in First Presbyterian Church, 208 W. Winnebago St., Winnebago, with visitation from 9:00 a.m. until service time; the Rev. Steve Shullanberger will officiate. Burial in Winnebago Cemetery.
Read More