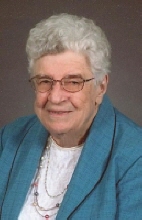 Obituary for Lorraine L. Roettger
Pecatonica - Lorraine L. Roettger, 89, of Pecatonica, died Wednesday, August 15, 2012, in her home, following a lengthy illness. Born August 22, 1922, in Bancroft, Wis., the daughter of Frank and Myrtle (Ingraham) Johnson. Graduated from Janesville High School in 1940. She served as Corporal in the United States Marine Corps from February 3, 1944 to December 7, 1945. Lorraine married Joseph Roettger on November 26, 1945, in Janesville, Wis. Together, they farmed in Seward many years, retiring in 1986, and then moved to Pecatonica. She was an active member of Pecatonica United Methodist Church and was a member of the Post No. 197 American Legion, Pecatonica and its women's auxiliary. Lorraine loved to sew, quilt, read, cook and make desserts. She was the family historian, loved being grandma and great-grandma, and was a loyal friend.

Lorraine is lovingly survived by her children, Carolyn (Bill) Rowe of Rockford, Kathie Koning of Freeport, Ruth (Randall) Bunger of Belvidere, Robert (Peggy) Roettger of Davis, Judy (Richard) Beuth of Leaf River and Jack (Cheryl) Roettger of Winnebago; 12 grandchildren; 16 great-grandchildren; 10 stepgrandchildren; 13 stepgreat-grandchildren; sister-in-law, Bernice Roettger of Rockford; numerous nieces and nephews; and dear friends, Laurene and Bob Lizer of Pecatonica and Terry and Trudy Morton of Wisconsin. Predeceased by her parents; husband, Joseph, on September 11, 1999; three granddaughters; son-in-law, Randy Koning; two sisters; and two brothers.

Her family would like to thank Lorraine's caregivers and FHN Hospice for their loving care.

Funeral Information

Service at 10:00 a.m. Saturday, August 18, 2012, in Pecatonica United Methodist Church, 528 Washington St., Pecatonica, with the Rev. Amy Poust officiating. Burial in Twelve Mile Grove Cemetery, Pecatonica. Visitation 5:00 p.m. to 8:00 p.m., Friday, August 17, 2012, in Genandt Funeral Home, 602 N. Elida St., Winnebago.
Read More