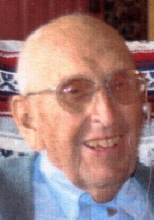 Obituary for Louis "Louie" Boomgarden
German Valley - Louis "Louie" Boomgarden, 92, of German Valley, died Wednesday morning, March 29, 2006, in FHN Memorial Hospital, in Freeport, surrounded by his family. Born March 9, 1914, in German Valley, the son of Louis and Etta (Decknadel) Boomgarden, Sr. Graduated from Pleasant Prairie Academy in German Valley, in 1937 and attended Central College in Pella, Iowa. Louis married Anna Sleper on November 15, 1945, in German Valley. In his youth, Louie helped his father haul corn to area graineries. He enlisted in the U.S. Navy from July 19, 1943 to October 1, 1945, as Aviation Machinist's Mate 3rd Class, during WWII. Louie owned and operated his corn shelling business, serving area farmers for several years. He was a mail carrier for the German Valley area from the 50s to 70s, and then served the Monroe Center - Davis Junction area four years, retiring in 1976. A lifelong, active member of Silver Creek Reformed Church, Louie served as deacon and elder for several terms, along with serving as an adult Sunday School class teacher. A German Valley school board member for many years, he was also a charter Forrestville Valley school board member, having served several years. Louie was a charter member of the German Valley Fire Department for 21 years and held various statewide positions of the Illinois Rural Letter Carrier Association. Always outgoing, he enjoyed visiting his friends at the local coffee shops, traveling via his Ford, besides wintering in Florida the last ten years.

Louie is lovingly survived by his son, Duane (Sue) Boomgarden of German Valley, grandchildren, Dana Wallace of Kenosha, Wis., Christina Wallace of German Valley, Jakob Louis Boomgarden of German Valley and Ryan Spraetz of Champaign.

Louie was predeceased by his wife, Anna Boomgarden on December 3, 1989, brother, Vernon Boomgarden and sister, Anna Broesder.

Funeral Information

Service is at 11:00 a.m., Monday, April 3, 2006, in Silver Creek Reformed Church, 326 S. Bunker Hill Road, German Valley, with the Rev. Randall P. Knoll officiating. Burial in Silver Creek Cemetery in German Valley. Visitation 2:00 p.m. to 5:00 p.m., Sunday, April 2, 2006 in Genandt Funeral Home, 145 Church St., German Valley.
Read More