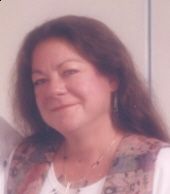 Obituary for Louise Kathleen Gourley
Ridott - Louise Kathleen Gourley, 53, of Ridott, died Monday morning, May 17, 2010, in her home. Born June 14, 1956, in Rockford, the daughter of Thomas R. and Janice (Bea) Hennegan. Graduated from Auburn High School in 1974, and St. Anthony's respiratory program. Louise married Michael Gourley on October 4, 1978, in Mauston, Wis. She was a respiratory therapist at Rockford Memorial Hospital for 16 years and a member of St. Mary's Catholic Church. Loving life and her family, Louise provided a caring hand to anyone of need. She enjoyed gourmet cooking, gardening and all of nature.

Louise is lovingly survived by her husband, Mike Gourley of Ridott; children, Karen (Frank), Lisa Peppers and Todd Gourley; grandchildren, Zachery Sanders and Vincent Gourley; great-grandson, Isaiah Sanders; father, Tom (Sharon) Hennegan; mother, Janice (Dennis) Atkinson; mother-in-law, Doris Gourley; sisters, Cynthia (Randy) Bontjes, Deborah Kimes and Michelle Smith; brothers, Randy (Kim) Atkinson and Dennis Atkinson, Jr.; nieces, Micheal Toribio and Danielle Kimes; nephews, Michael (Angela) and Thomas (Trisha) Hennegan, Joshua (Heather) Kimes and Scott Atkinson; several great-nieces and nephews; and dear family friend, P. Brad (Janet) Feinberg. She was predeceased by her brother, Thomas M. Hennegan and father-in-law Earl Gourley.

Funeral Information

Mass of Christian Burial is at 11:00 a.m., Friday, May 21, 2010, in St. Mary's Catholic Church, 126 W. 5th Street, Pecatonica, with the Rev. Monsignor Robert Sweeney and the Rev. Jerome Koutnik, of St. Peter's Catholic Church, South Beloit, co-officiating. Burial in St. Mary Catholic Cemetery, Pecatonica. Visitation 5:00 p.m. to 7:00 p.m., Thursday, May 20, 2010, with Rosary Rites at 7:00 p.m., in Genandt Funeral Home, 602 N. Elida St., Winnebago.