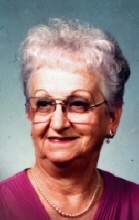 Obituary for Lucille G. McElmeel
Loving Mom, & Loving Grandma Mac & Great-grandma Mac

Ridott - Lucille G. McElmeel, of Ridott, went home to be with her heavenly Father Sunday, February 24, 2008. She was born September 28, 1918, in Cascade, Iowa, the daughter of
William and Mary (Dahlem) Featherston. Lucille married John F. McElmeel April 15, 1939, in Whiting, Ind. She was the retired owner and operator of the Friendly Village Tap, in Ridott, for 37 years. Lucille was a member of St. Mary's Catholic Church. She had a great love for animals and always tended a large garden and loved to cook.

Lucille is lovingly survived by her sons, Patrick (Peggy) McElmeel of Nebraska and Michael (Wendy) McElmeel of Winnebago; daughters, Janet Buchanan of Rockford, Kathy Rudy of Winnebago, Colleen Miranda of Machesney Park, Sheila (Mark) Lawson of Ridott and Cynthia (Kim) Kopp of Ridott; 21 grandchildren; 25 great-grandchildren; sister, Eileen Hudzinski of Rockford; and several nieces and nephews.

Lucille was predeceased by her parents; husband, John in 1967; son Richard; daughter, Barbara Jean; three brothers and two sisters.

Funeral Information

Service is at 10:00 a.m., Saturday, March 1, 2008, in St. Mary's Catholic Church, 126 W. 5th St., Pecatonica, with the Rev. Robert Sweeney officiating. Burial in Calvary Catholic Cemetery in Winnebago. Visitation 5:00 p.m. to 8:00 p.m., Friday, February 29, 2008, with Rosary service at 7:30 p.m., in Genandt Funeral Home, 602 N. Elida St., Winnebago.
Read More