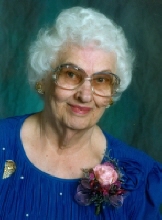 Obituary for Lusetta Mae "Lu" Zimmerman
Winnebago Lusetta Mae Lu Zimmerman, 98, of Winnebago, passed away Sunday, August 20, 2017 in Generations at Neighbors in Byron. Born November 4, 1918, in Seymour, Iowa, the daughter of Carl Welcome and Anna Mae (Cook) King. Lusetta married Kenneth R. Zimmerman Sr. on October 18, 1936. She worked several years at Amerock and then Didiers Greenhouse in Rockford. Lusetta was a member of First Presbyterian Church in Winnebago. She enjoyed dancing in her younger years, watching the old movies, and was passionate about playing cards of all sorts and slot machines. Lusetta dearly loved caring for her family, attending all family gatherings and her black and white cats all named Stubby.

Lusetta is lovingly survived by her son, Kenneth (Mary Ann) Zimmerman Jr. of Rockford; daughter, Darla Lovett of Seward; 9 grandchildren; 18 great-grandchildren; 3 great-great-grandchildren; daughter-in-law, Marilyn Zimmerman; special nephews, Reg Petersen and Richard Zimmerman; special nieces, Cletha Daugherty and June Castrogiovanni; several nephews and nieces.

Lusetta is predeceased by her husband, Kenneth Zimmerman Sr. on May 27, 1977; son, William Denny Zimmerman; granddaughter, Lorraine Babe Lovett; son-in-law, Ivan Lovett; daughter-in-law Judy Zimmerman; brother, Cleo King; sisters, Evelyn OBrien, Maxine Petersen.

Funeral Information

Visitation 10:00 a.m. to 12:00 p.m. Saturday, August 26, 2017, in Genandt Funeral Home, 602 N. Elida St., Winnebago. Private interment in Winnebago Cemetery near Winnebago.