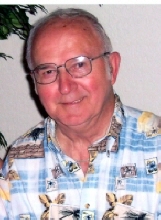 Obituary for Lynn A. Spielman
Seward - Lynn A. Spielman, 77, lifelong resident of Seward, died Sunday, June 16, 2013, in Presence Cor Mariae Center, Rockford, after a lengthy illness. Born August 10, 1935, in Rockford, the son of Howard and Leona (Fonken) Spielman. Graduated from Winnebago High School in 1953. Lynn married Harriett "Jean" Spielman on June 12, 1954, in Messiah Lutheran Church, Rockford. He was a machinist and in sales for many years at various companies. Lynn was a lifetime active member of Seward Congregational Church where he sang as a soloist and in the church choir, served as moderator, usher, deacon, trustee, besides other committees and helped wherever he was needed. He also served the Seward community as a firefighter, and then with the Seward Historical Society. Lynn dearly loved to sing his entire life, having received music awards in his younger years. He enjoyed poetry and was an avid teddy bear collector, but his pride and joy was spending time with his grandchildren and great-grandchildren. Special thanks to the staff of Heritage Woods and Presence Cor Mariae Center for their care and support.

Lynn is lovingly survived by his daughters, Kim (Terry) Reed of Winnebago and Jill (Jeff) Viel of Pecatonica; grandchildren, Adam (Kimee) Reed of Huntley, Kelly (Andy Smallwood) Reed of Winnebago, and Collin and Ryan Viel of Pecatonica; great-grandchildren, Jordyn Mae Wogomon, MacKenzie and Colby Aschenbach and Reily Smallwood; sister, Yvonne "Bonnie" Turnquist of East Grand Rapids, Mich.; sisters-in-law, Dorothy Spielman of North Fort Myers, Fla. and Shirley (Alvie) Frantz Myers of German Valley; and several nieces and nephews. He was predeceased by his parents; wife, Jean, on September 3, 2006; and brother, Tom Spielman, on May 31, 2010.

Funeral Information

Service is at 11:00 a.m., Thursday, June 20, 2013, in Seward Congregational Church, Seward, with the Rev. Tom Frantz, of Blissfield Baptist Church, Michigan, officiating. Cremation rites were accorded. Burial of cremated remains in Twelve Mile Grove Cemetery, Pecatonica. Visitation 5:00 p.m. to 7:00 p.m., Wednesday, June 19, 2013, in Genandt Funeral Home, 602 N. Elida St., Winnebago.
Read More