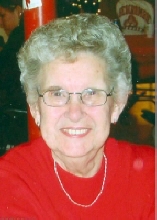 Obituary for Madora Margaret Jones
Byron - Madora Margaret Jones, 93, of Byron, died Wednesday, October 23, 2013, in Rockford Memorial Hospital. Born September 24, 1920, on the family farm in Pecatonica, the daughter of Edward and Rosa Lee (Van Vleck) Johnson. She attended the Pecatonica schools, graduating in 1938. Madora married William A. Jones on September 23, 1939 in First Lutheran Church, Pecatonica, the church she attended while growing up. Together they farmed on the Jones family farm. She was an active member of Middle Creek Presbyterian Church, Winnebago, having taught Sunday school, served on the memorial committee, the Mariners and Women's Association. Madora also was a member of Ogle County Home Extension. She dearly loved spending time with her family and friends, and enjoyed sewing, cooking, canning, baking, and gardening.

Madora is lovingly survived by her husband, Bill Jones of Byron; children, Carolyn (David) Johnson of Byron, Gary A. (Karen) Jones of Rockford, Marletta Sue (Harry) Poggioli of Rockford and Jan (Mike) Steele of St. Charles, Mo.; 12 grandchildren; 18 great-grandchildren; and four great-great-grandchildren. She was predeceased by her parents; son, Ronald W. Jones in 2000; granddaughters, Pamela and Jill Jones in 1969; two brothers, and two sisters.

Funeral Information

Service is at 1:30 p.m., Saturday, October 26, 2013, in Middle Creek Presbyterian Church, 12473 Montague Rd., Winnebago, with visitation from noon until service time; the Rev. Anita Stuart-Steva will officiate. Burial in Middle Creek Cemetery, Winnebago.
Read More