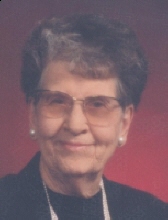 Obituary for Margaret Alice Jueal
Beloved Mother & Grandmother

Winnebago - Margaret Alice Jueal, 93, of Winnebago, died Monday evening, March 1, 2010, in Neighbors Nursing Home. Born September 20, 1916, in Opdyke, the daughter of August and Alice (Glazebrook) Rittmeyer. Graduated from Rochelle High School in 1934 and Blackburn College in 1937 with a degree in Home Economics. Margaret married Fay T. Jueal on March 2, 1939 in Lindenwood. They moved to Winnebago in 1940 and farmed until 1971. Margaret also was a cook for the Winnebago School District #323 for 26 years and later cooked at the Winnebago Caf for 6 years. An active member of the First Presbyterian Church, she sang in the choir, was an elder and deacon, chairperson of the Greeters Committee, a member of the Mary Martha Circle and helped serve many church luncheons. In addition, Margaret was a member of the Westfield Grange, Westfield Community Center and the Winnebago Senior Women's Club.

Margaret is lovingly survived by her daughter, Shirley Jueal of Winnebago; granddaughters, Teresa Howe of Winnebago, Tammy Howe of Freeport and Stephanie Jueal Ganus of Ark.; and great-grandsons, Craig, Dustin and Darrin; great-granddaughter, Whitney; great-great-granddaughter, Allyson; and numerous nieces and nephews.

She was predeceased by her husband, Fay Jueal, on December 17, 1979; son, Steven Jueal; brothers, Wilford, Claude, Herbert, Lester and Henry Rittmeyer; sisters, Mary Rittmeyer, Mildred Knight, Edna Rapp and Lorraine Rittmeyer; and dear friend, Helene Hoffmann.

Funeral Information

Service is at 11:00 a.m., Monday, March 8, 2010, in First Presbyterian Church, 208 W. Winnebago St., Winnebago with visitation from 10:00 a.m. until service time; the Rev. Steve P. Shullanberger will officiate. Burial in Winnebago Cemetery.